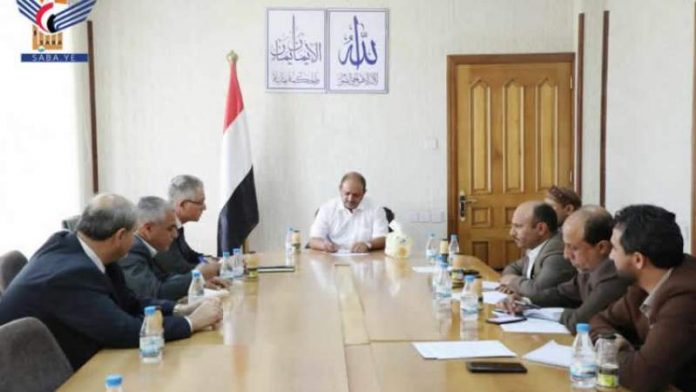 The Secretary-General of the Supreme Council for the Management and Coordination of Humanitarian Affairs Ibrahim Al-Hamali discussed on Tuesday with the UNICEF Resident Representative in Yemen Philippe Duamelle the projects implemented by the organization, especially in the health, education and water sectors.
Al-Hamali pointed to the extent of the suffering, burdens and challenges imposed on the Yemeni people as a result of the war, the siege, the targeting of civilians and the violation of their right to a safe and dignified life.
The Secretary-General of the Council pointed to the moral and humanitarian responsibility of the United Nations, with all its agencies and organizations, to put pressure on the US-Saudi aggression to lift the siege and end the war.
He called on humanitarian organizations to denounce violations against civilians, including the closure of Sana'a airport , preventing thousands of patients from traveling for treatment. As well as the detention of oil ships, which has an impact on the work of health and service facilities. These violations constitute a clear violation of humanitarian principles and a disregard for the international organization that granted ships entry permits to the port of Hodeidah.
Al-Hamali stressed the need to enhance effective joint coordination to facilitate the work of the organization, stressing the council's keenness to overcome difficulties and find appropriate solutions and treatments to move forward in implementing humanitarian projects.
For his part, the UNICEF representative stressed the organization's endeavor to provide possible support to the health sector, child care, and the provision of water and education needs.
Duamelle described the situation of Yemeni children as tragic that calls for speeding up aid and peace steps, stressing the urgent need to mobilize more resources.
Saudi Arabia and a number of its regional allies, backed by the United States and European powers, launched the war on Yemen in March 2015, with the goal of bringing the government of former Yemeni president Abd Rabbuh Mansour Hadi back to power.
The war has left hundreds of thousands of Yemenis dead and displaced millions more. It has also destroyed Yemen's infrastructure and spread famine and infectious diseases there.
The US-Saudi aggression continues to target neighborhoods and populated areas and destroy the infrastructure and capabilities of the country, in light of a suspicious international silence.