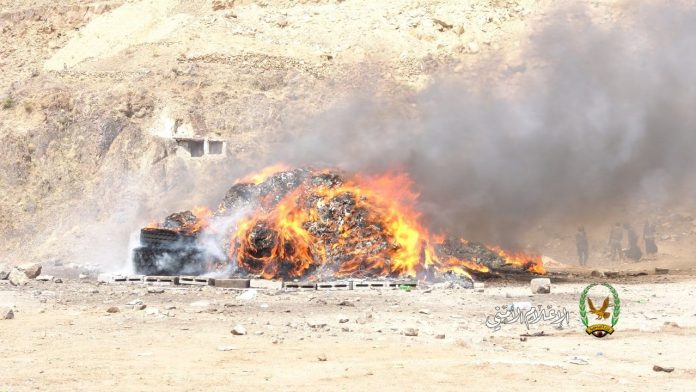 About 28 tons and 55 bars of hashish "resin",2,050,207 Captagon pills, 66 kilograms and a half of heroin, five kilograms of "Shabu", 5,239 expired narcotic ampoules and 41 bags of local cannabis were destroyed in the capital Sana'a on Sunday.
During the destruction process, the Minister of Interior, Major General Abdulkarim Amir al-Din al-Houthi, affirmed the ministry's keenness to combat this dangerous scourge, which threatens society, security and stability.
He praised the efforts of the security services, led by the General Department for Drug Control and the Criminal Prosecution, in seizing and destroying narcotics and hashish.
In turn, Chief of the Criminal Prosecution, Judge Abdullah Zahra, explained that these quantities were seized during 2020-2021, and are linked to 133 cases pending before the Public Prosecution and the Criminal Court, some of which have been judged.
It should be noted that the destruction was carried out on the occasion of the International Day Against Drug Abuse and Illicit Trafficking, and comes at a time when the areas occupied by the Saudi-led aggression forces are witnessing unprecedented activity in drug trafficking and smuggling operations as a result of the insecurity witnessed by those areas.