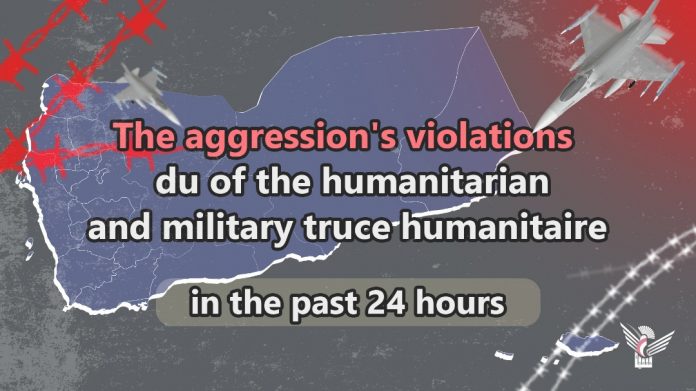 The US-backed Saudi-led aggression coalition forces and their mercenaries have committed 117 violations of the humanitarian and military truce, the official Yemeni news agency Saba reported on Monday, citing a military source.
According to the military source, the violations included three raids hit Hays district of Hodeida and four ones attacked Murais and Bab Ghalq areas of Dhalea, while 47 armed reconnaissance aircrafts flew over Marib, Jawf, Hajjah, Dhalea, Hodeida, Bayda and border fronts.
The source affirmed that new combat fortifications were created in surround of Marib city, Maqbana and Osaifra areas of Taiz.
The source pointed out that coalition's mercenaries targeted a site of the Yemeni army in north of Hays district in Hodeida by a guided missile.
In addition, the source declared that 92 breaches were recorded, with heavy shooting at citizens' homes and sites of the army and popular committees in Marib, Taiz, Hajjah, Jawf, Hodeida, Dhalea, Bayda and border fronts.
He also said that 25 violations by an artillery shelling were recorded at the army's sites in Al-Balq Al-Sharqi, Al-Wadi and Malaa areas of Marib, Al-Kadeha and Al-Qasr areas of Taiz and Haradh district of Hajjah.
The source mentioned that an artillery bombing targeted the army's sites in Qumamat Al-Ghawiya and Razih districts of Saada, Tuhayta and Hays districts of Hodeida.
The source pointed out that the mercenaries also bombarded the army's sites in Al-Sauh and Maimnat Al-Biqaa areas of Najran, Al-Mataan and Al-Brokiah areas of Jizan region.