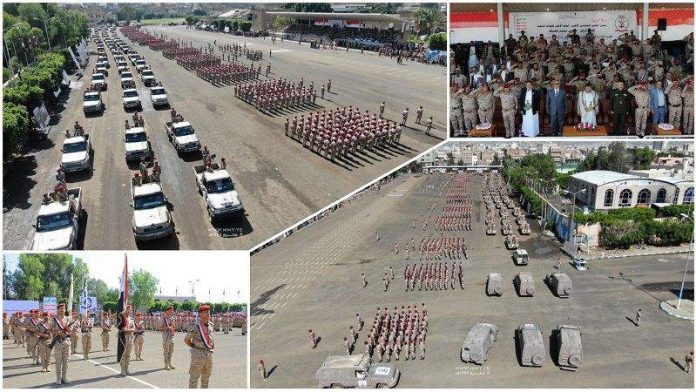 Border Guard forces recently held a graduation ceremony for the latest batch of military recruits in various units of the armed forces.
The ceremony witnessed military parades by the graduates, reflecting the fighting skills and experience gained from military courses during the training period.
In a speech during the ceremony, member of the supreme political council Mohammed Ali al-Houthi congratulated the graduates, saying that they are a safety valve for the nation.
"It is an inevitability, what we have seen today through the enemies' request for a truce, and we say to the Yemeni people, rest assured these heroes of the army, popular committees and others on all fronts, took up arms and did not hesitate or retreat from the holy jihad. They engaged with enthusiasm and took responsibility to confront the aggression and its elements" Mohammed al-Houthi said.
He pointed out that the border guards conflicts with the Saudi state go back to the thirties of the last century.
Al-Houthi added, "the Saudis are attacking our homeland and usurping our land, and today's battle with them is not the first but God willing, their end will be at our hands."
"To the Saudis and all those who allied with them in the aggression that America leads, manages, provokes and mobilizes we say: "These heroes are ready to go back to the barricades and positions to teach every mercenary and your armies the worst they can receive from painful blows and successive defeats," al-Houthi addressed the Saudi-led coalition and all their allies, mainly the US.
Regarding the Zionist aggression on Gaza, Mohammed Ali al-Houthi congratulated the Palestinian resistance on the painful blows that it dealt to the Zionist enemy.
"It was essential that those strikes were directed at the Zionist enemy, and your readiness and preparations is the source of the first victory, and if you lost the readiness, you would have lost the victory," he addressed Palestinian resistance factions.