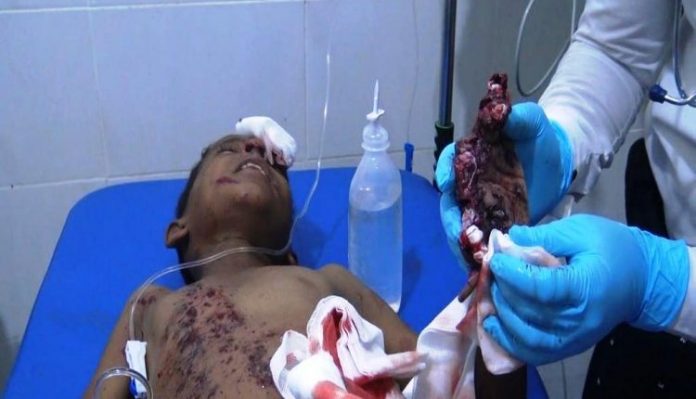 The bombs and remnants of Saudi-led aggression coalition weapons continue to claim lives of civilians in various parts of Yemen, amid the United Nations silence and disregard by international organizations.
A security source in Hodeidah province announced on Saturday the death of a civilian and the injury of two others as a result of the explosion of a projectile left behind by the coalition north of Al-Tuhita district.
This comes less than 24 hours after the killing of a citizen in the blast of a mine left behind by the coalition forces east of Jawf province, and another citizen was killed in Nihm district of Sana'a province, while a woman was injured by the explosion of a cluster bomb left by the coalition while was grazing sheep in Kitaf district of Saada province, according to the Executive Center for Mine Action.
On September 24, the Executive Center for Mine Action in Sana'a announced that 115 children had been injured by the coalition weapons remnants in Jawf since the start of the truce.
The Director of the Center, Brigadier General Ali Sofra, stated that Jawf province occupies the second place after Hodeidah, which is contaminated with the remnants of the coalition projectiles, including mines and cluster bombs. He held the United Nations responsible for the continued causalities of the coalition war remnants due to its ignoring the necessity of entering mine detection materials.
During the month of August, the Executive Center for Mine Action revealed that 53 civilians were victims of mines, cluster bombs and remnants of war.
According to the statistics of the Executive Center for Mine Action during last May, the number of civilian casualties due to mines and the remnants of coalition weapons reached 27, between dead and wounded.
In last March, the center recorded 42 casualties in various provinces, including 220 casualties in Hodeidah since the withdrawal of the aggression coalition forces in November last year.