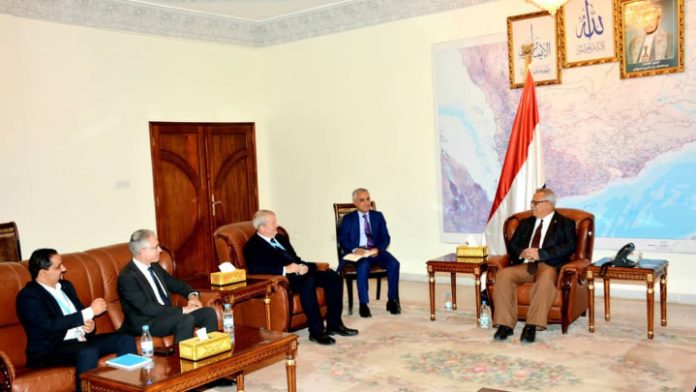 Head of the National Salvation Government, Dr. Abdulaziz bin Habtoor, discussed on Saturday in Sana'a with UNICEF's resident representative, Peter Hawkins, the priorities of joint cooperation.
The meeting dealt with UNICEF's plans and projects in Yemen for the coming period and ways to strengthen partnership with relevant government agencies, especially the ministries of health, education, and water and environment.
Bin Habtoor welcomed the UN official, hoping that he would continue the good efforts made by his predecessor, Philip Duhamel, in strengthening UNICEF's activity and its important humanitarian interventions in a number of vital sectors.
He pointed out that the government, represented by the ministries and concerned and related authorities, is keen to provide the factors that help UNICEF implement its projects and solve problems that may hinder its activities.
The Prime Minister affirmed that ending the aggressive war and the blockade and achieving a just peace is enough to end these challenges, which are growing year after year.
For his part, Hawkins confirmed that he would do his best to strengthen partnership relations with the Salvation Government through the relevant authorities to reduce the suffering of the Yemeni citizen.
He added that the organization would work to mobilize more funds to implement the necessary support for Yemen.