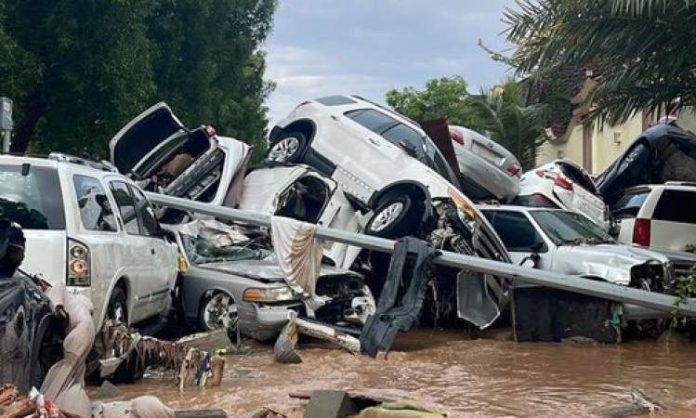 At least two people died on Thursday as heavy rains hit western Saudi Arabia, including Jeddah, delaying flights and forcing schools to close, officials said.
Video footage circulated on social media platforms showed the destruction of a large number of cars and roads in the Saudi city of Jeddah, following the torrential rains.
Video footage circulated on social media showed the flow of torrents after heavy rains in residential neighbourhoods, such as the Al-Nuzha neighbourhood and Al-Zahraa neighbourhood, and the huge amount of destruction that affected a large number of cars, as rainwater covered some of them and swept away others.
The road connecting Jeddah and Makkah was closed on Thursday once the rains began, Saudi Press Agency said, although it was later reopened.
The city's King Abdulaziz International Airport said that "due to weather conditions, the departure of some flights has been delayed" and urged passengers to contact carriers for up-to-date schedules.
The National Center of Meteorology recorded 179 mm of rainfall on Thursday, the highest amount ever received in the city.
Rain fell from 8 a.m. until 2 p.m. in the south of the province in a heavier downpour than the previous biggest, in 2009, according to Saudi media