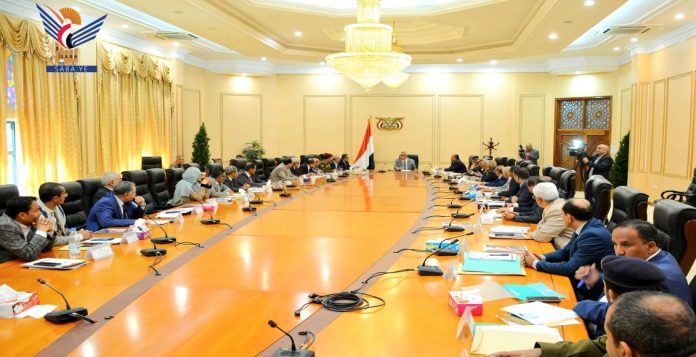 The Cabinet, in its regular meeting Tuesday, chaired by Prime Minster, Dr. Abdulaziz Saleh bin Habtoor, condemned the burning a copy of the Holy Quran by the tools of the Zionist lobby in Sweden.
The Council of Ministers considered this crime an aggressive act that provoked the feelings of Muslims and should not be tolerated, stressing that the sons of the Islamic nation and its leaders are required to take deterrent and strict measures to confront this condemned act.
The Cabinet praised the massive mass rallies that took place in the capital, Sanaa, and a number of provinces on Monday to express the Yemeni people's condemnation of this ugly act.
In its meeting, which began with verses from the Holy Quran, and excerpts from the charter of Imam Ali, peace be upon him, to Malik Al-Ashtar Al-Nakhai, the Cabinet approved the document of rectification and development of institutional performance in the public service units.
The excerpts focused on the importance of the commitment of all the state leaders, officials and employees to justice and fairness in their work.
The Council of Ministers listened also to the directives of the Leader of the Revolution, Sayyed Abdulmalik Badr al-Din al-Houthi, regarding the general performance of state institutions, which included caring for the citizen and realizing the dangers of negligence in the responsibility honesty, and focusing on concerted official and popular efforts to achieve cooperation and partnership in various development fields.
The Council considered the approved development document a commitment from the government to work gradually towards transitioning to normal work in the state institutions.
In the meeting, the Cabinet also approved submitting the document to the Supreme Political Council, with an emphasis on preparing a mechanism by the Executive Office for the national vision to follow-up and assess the level of work, and submit reports to the Council in this regard.