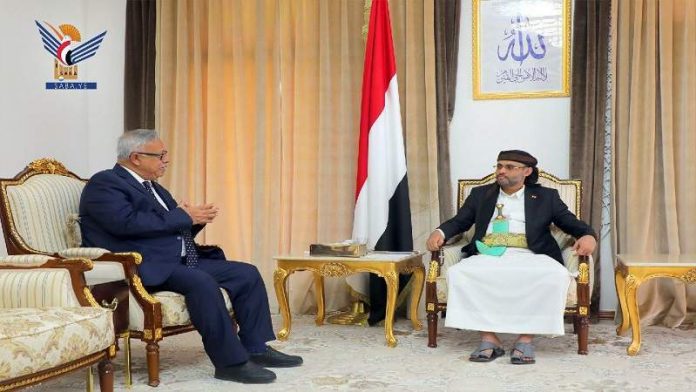 President of the Supreme Political Council, Mahdi Al-Mashat, on Sunday praised the high public awareness and the massive attendance witnessed by the "siege is war" rallies in the capital, Sanaa, and the other Yemeni governorates.
This came during his meeting with Prime Minister, Dr. Abdulaziz bin Habtoor, who briefed him on all government efforts and activities to alleviate the suffering of citizens, stabilize services, and keep pace with the directives of the revolutionary leadership and the Supreme Political Council regarding the national steadfastness and confronting aggression.
In the meeting, President Al-Mashat affirmed that the Yemeni people have great awareness and extensive knowledge of the destructive methods of the aggression countries and their quest to double the suffering of citizens in various aspects.
The President indicated that citizens are the focus and compass of the National Salvation Government, especially in light of what they have been suffering as a result of the aggression and siege for more than seven years.
He stressed the importance of integrating efforts and working to improve services and simplify procedures in public service units, and continuing reform efforts to modernize and develop the system of laws and regulations.
The meeting discussed the governmental performance of the ministries and state institutions, the level of implementation of the annual plans and the priorities of the executive work, especially what is related to the implementation of the paths of the national vision