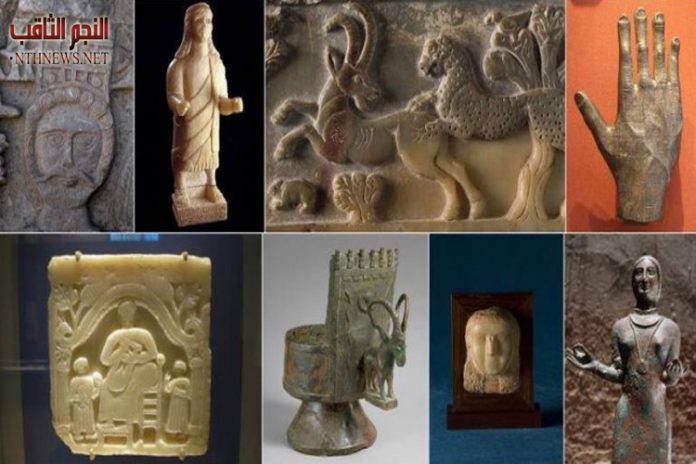 US revealed the existence of 77 rare Yemeni artifacts that were smuggled to a museum in Washington during the year 2012.
It  indicated that these archaeological treasures will be preserved "temporarily" in a museum in Washington.
The federal prosecutor in New York, Brion Pace, stated, in a statement yesterday, Tuesday, that the artifacts are "64 carved stone heads, 11 manuscript pages from the Qur'an, an inscribed bronze bowl and a funerary stele from the Ma'in or Ma'eeni tribal cultures in the highlands of northwestern Yemen, dating back to to the first century BC.
Previous reports mentioned the smuggling of thousands of Yemeni artifacts, where the Al-hudhud Center for Archaeological Studies revealed in a report that more than 4,265 smuggled artifacts were sold in 16 auctions in 6 countries: America 5 auctions, Britain 4 auctions, France 3 auctions, and 2 auctions in the Zionist entity and an auction for both Germany and the Netherlands.
The number of pieces sold and displayed during the period of aggression reached 2,610 pieces.
US ranked first with 2,167 artifacts, then the Netherlands, and the Zionist entity in third place with approximately 450 artifacts.
The Executive Director of the Al-hudhud Center for Archaeological Studies, Fahmi Al-Aghbari, indicated that the list issued by the center is a starting point for the official judicial authorities to prosecute antiquities thefts.
He explained that the leakage of Yemeni antiquities has been active since 2011 and increased in 2015 with the beginning of the aggression and unjust UN resolutions. Al-Aghbari said that the aggression coalition targeted archaeological sites in which there could be no military forces, such as the Dhamar Historical Museum The director of the Hoopoes Center for Archaeological Studies accused the UAE of playing a major role in the looting of Yemeni antiquities, for presenting them in poor plays as Emirati artifacts and for delivering them to the enemy entity.