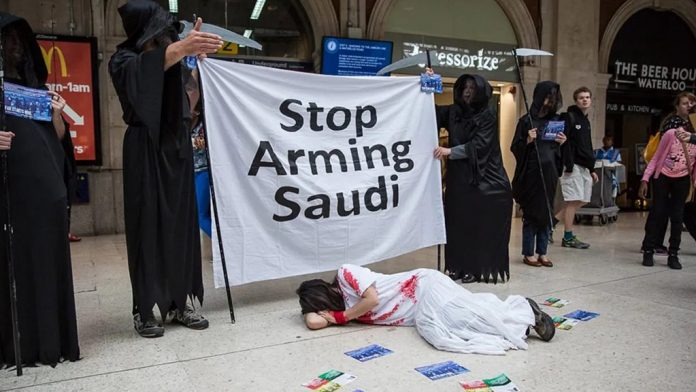 A group of Yemeni nationals has filed a lawsuit in the US against military contractors Raytheon, Lockheed Martin, and General Dynamics, accusing them of "aiding and abetting war crimes and extrajudicial killings" by supplying arms to the Saudi-led aggression on Yemen.
The lawsuit, filed in the district court of Washington DC, also names the leaders of Saudi Arabia and the United Arab Emirates, Mohammed bin Salman and Mohammed bin Zayed, respectively, as well as US Secretary of State Antony Blinken and Pentagon chief Lloyd Austin.
"Year after year, the bombs fell – on wedding tents, funeral halls, fishing boats and a school bus – killing thousands of civilians and helping turn Yemen into the world's worst humanitarian crisis," read the lawsuit.
It further mentioned that "Weapons supplied by US companies through sales unlawfully approved by US officials, allowed Saudi Arabia and the UAE through the named Defendant officials to pursue an indiscriminate and brutal bombing campaign."
The plaintiffs are seven Yemeni individuals who say they represent the victims of two separate bombings in the country – one for a wedding in 2015 and another for a funeral in 2016.
In October 2015, the Al-Sanabani family was readying to celebrate a relative's wedding when a warplane bombed the area, martyring 43 people including 13 women and 16 children, according to Human Rights Watch [HRW].
One year later, in October 2016, a crowded funeral was bombed and more than 100 people were martyred. HRW reported that the bomb used was the US-manufactured GBU-12 Paveway II laser-guided bomb.
"I found him under a burning car, he was dead, his legs were cut off, and his right hand was cut off too, he was completely burnt," Khaled Ali Salem Chaib, one of the victims, said in a statement detailing the death of his son from the wedding bombing in 2015.
He further mentioned that "Some nights when I sleep, I feel tight in my body, and I have disturbing nightmares and I can't bear to see the scene of the crime since."
The Yemenis are filing the lawsuit under the Torture Victim Protection Act [TVPA], a 1991 US law that allows victims of torture to sue for compensation from their tormenters if the accused are in the US.
The lawsuit names the Saudi and Emirati crown princes under the Alien Tort Statute, a law that grants federal courts jurisdiction over violations of international law.
The lawsuit, filed on behalf of the plaintiffs by Terrence Collingsworth of International Rights Advocates, comes more than a month after the Campaign Against Arms Trade [CAAT] in January said it would be taking legal action against the UK government over its arms sales to Saudi Arabia during the aggression on Yemen.
March marks the eighth year of the Saudi-led aggression on Yemen, and rights advocates in the US have been pushing for a definitive end to American support for the Saudi-led coalition.