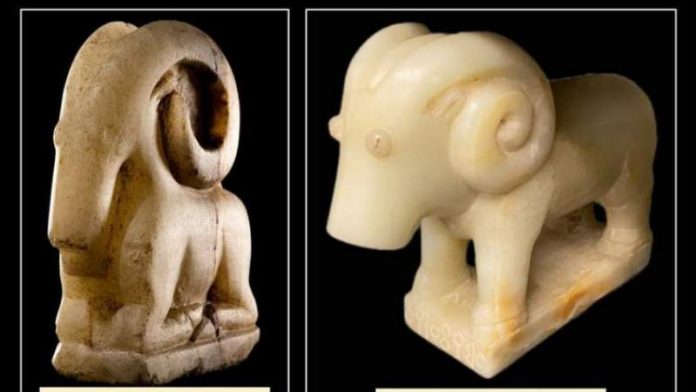 American and French auctions topped the list of "exhibitions" selling looted Yemeni historical antiquities in recent years, in light of accusations against the Saudi-backed "government" standing behind networks of looting and smuggling of Yemen's history and heritage.
Yemeni researcher in the field of antiquities interested in monitoring smuggled Yemeni antiquities, Abdullah Mohsen, revealed the sale of a new Yemeni artifact dating back to the first century AD in the United States of America. He said, on his account in Facebook, Saturday, that an alabaster "caribou" with an engraved base was sold at the "Leslie Hindman" auction in the US state of Chicago on May 26, for $ 4,063.
The Yemeni researcher added, "Less than thirty days separate the Manhattan District Attorney's announcement of the return of three artifacts worth $725,000 to the Yemeni people" on April 29, "noting that the artifact that was sold is similar to one of the returned pieces"?
He pointed out that the sold artifact was acquired from the art market in New York in the nineties of the last century, stressing that the scarcity of information published in the auction stands in the way of knowing details about the sold ibex, where it was discovered and how it was purchased, adding, "Perhaps the interest of the United States in this aspect leads us to know more."
Mohsen revealed late last week that four distinctive antiques from the rare antiquities of Yemen were displayed at a public auction on May 31 at the famous French "Leon and Turnbull" house in the "Formation Through Time" auction, the most prominent of which is "a head of marble from Saba Yemen."
Abdullah Mohsen accused the government loyal to the coalition of negligence and not allocating a budget to help track Yemeni antiquities abroad, despite all that is published about the cases of Yemen's antiquities abroad, stressing that the coalition government's denial of what he said "will only be an admission of the failure of the commission, the ministry and the embassies in their work despite Availability of the necessary funding, which is another failure that counts on it," he said.