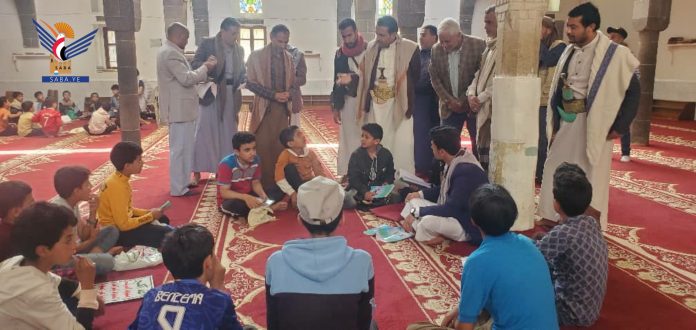 The Minister of Human Rights, Ali Hussein Al-Dailami, was briefed on the activities of the summer courses in a number of centers in the capital's secretariat.
Al-Dailami praised – during his visit to Al-Huda, Al-Harqan, Al-Fulaihi and Al-Balayli centers in the old Sana'a and Al-Wahda districts – the efforts made to hold these courses, and the religious and scientific activities and programs they include aimed at immunizing young people and youth from false cultures.
He pointed out the importance of providing support for these activities in order to achieve the desired goals of consolidating the Qur'anic culture, teaching students the Holy Qur'an, developing their skills, discovering their talents, and benefiting them during the study leave.
For his part, Ali Al-Mahfadi, the supervisor of the summer centers in the Old Sana'a Directorate, explained that the summer courses offer programs and religious, scientific and cultural knowledge, and various activities concerned with building the personality of those enrolled in them, and enhancing the spirit of belonging to the homeland and the faith identity, noting the level of awareness among parents in pushing their children to enroll. courses this year.