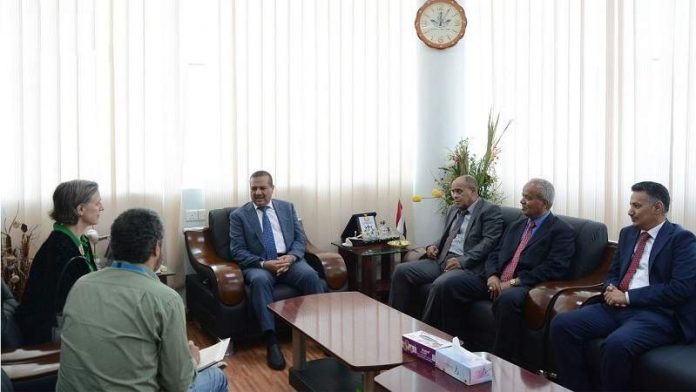 The Minister of Transport, Abdulwahhab Al-Durra, Minister of Public Works and Roads, Ghaleb Mutlaq, jointly emphasized the need to take urgent measures to open Sana'a International Airport to all destinations, as it is a right guaranteed by all international charters, agreements, and human rights.
This came during their meeting, Sunday, in Sana'a, with the Director of the Office of the UN Envoy to Yemen, Roxana Bazarjan.
The meeting touched on delay in opening multiple destinations, increasing the number of civil flights to Jordan and the level of humanitarian operation of Sana'a International Airport.
The Minister of Transport pointed out that the opening of Sana'a International Airport is a humanitarian demand and a legal right for people of Yemen.
He pointed out that the people of Yemen suffer from a lack of humanitarian flights to transport patients and travelers stranded in countries and airports, and they are forced to travel through difficult and unsafe roads.
He stressed that the failure to lift the siege on Sana'a International Airport and open all destinations is aimed to continue the suffering of the Yemeni people to achieve political and negotiating purposes at the expense of humanitarian and human rights issues.
He pointed to the need to open new destinations and increase trips to meet the increasing demand for patients, humanitarian cases, and pilgrims.
Minister of Public Works and Roads pointed out the importance of Sana'a International Airport as it provides special humanitarian services to patients.
The Director of the Office of the UN Envoy stressed the need to increase the number of flights to Jordan to meet the increasing demands and humanitarian cases.