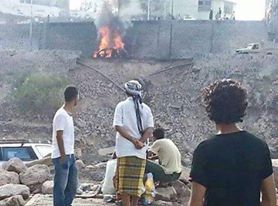 Althawra Net
A huge explosion killed the governor of Yemen's southern Aden province and six of his bodyguards on Sunday, security officials said, in an attack that was later claimed by a local ISIS affiliate.
Governor Gaafar Mohamed Saad was traveling to his office when the explosion struck his convoy in the southern port city. Authorities are investigating the exact cause of the explosion. The officials spoke on condition of anonymity because they were not authorized to brief the media.
An ISIS affiliate claimed the attack in a statement circulated online by supporters, saying the bomb was concealed in a parked car along the convoy's route. The group referred to Saad as a "tyrant" and warned the "heads of the infidels" in Yemen that it would carry out "operations to chop off their rotten heads."
ISIS has claimed a series of bombings that killed 159 people and wounded 345 this year in Yemen, according to an AP count.