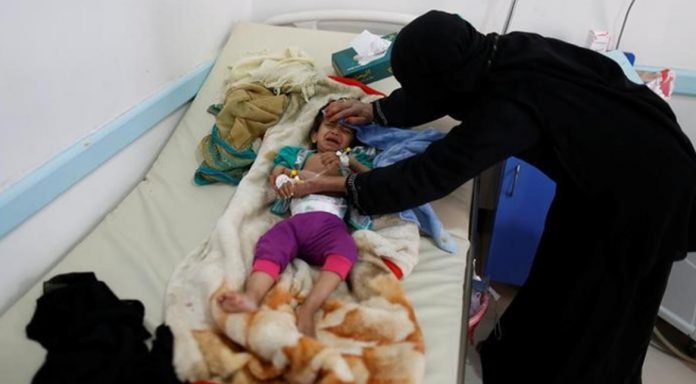 Al-Thawra Net
The Republic of Yemen has called the international community and all humanitarian actors to act seriously to counter the spread of cholera, and to provide life-saving medicines and solutions, including chronic diseases, which the aggression and blockade had contributed to the isolation of all health workers from the pandemic.
In a statement today, the Foreign Ministry appealed the international community to fulfill its humanitarian and legal obligations towards the Yemeni people, who have been subjected to the most heinous aggression throughout history.
The Yemeni people face many challenges and difficulties due to the systematic destruction of various service, health and infrastructures by the Saudi-American aggression, which aggravated the suffering of Yemenis and caused famine as a result of destroying the economy of the country in addition to the outbreak of cholera as a serious product of the aggression and Blockade since more than two years, the statement said
According to the latest figures, indicated that the number of people affected with cholera has exceeded 332, 000 since the fist outbreak in April 2017 in a rapid and unprecedented spread, the statement added
In this regard, the ministry clarified the World Health Organization (WHO) has announced that it would be canceling the planned shipment of nearly one million cholera vaccines to the country due to the ineffectiveness of many vaccines to curb the widespread of cholera epidemic, pointing out to the need to study the causes of this rapid outbreak, including areas that are isolated from contact with any causes of the epidemic.
The statement confirmed that the worsening cholera epidemic is a result of the ongoing crimes committed by the aggression which is a reason to deprive health and service workers to get their salaries for ten months, which had contributed greatly to exacerbating the crisis and the inability of doctors and health and environmental workers to fulfill their obligations.
It renewed its call to stop the Saudi-American aggression against Yemen which is against all norms, charters and international humanitarian law.
Foreign Ministry called on the international community to provide material and logistical assistance to international humanitarian organizations to address the emergency needs of cholera control efforts