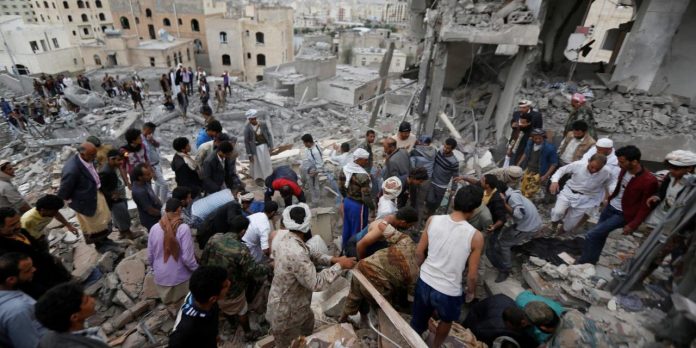 Saudi warplanes  launched a series of raids on the governorates of the republic, while mercenaries bombardment targeted  villages during the past hours .
A military source told SABA that the air force targeted a shop and a car in a market in  Hodeidah province, which led to the deaths of three citizens, including a woman and wounded three others in critical condition .
The source pointed out that the  aggression launched several raids on the homes and farms of citizens in al-Jirahi directorate  in Hodeidah ,six raids on f Harad and Midi in Hajjah, and two raids on the directorate of Sarwah in Marib province .
The source confirmed that the number of killed in Mwazi directorate raised to 9 civilians. The source  pointed out  that the warplanes launched a raid on the area of al-​​Hamli and raid east of al- Omari schools .
One citizen was injured by Saudi rocket and artillery bombardment of Shada border directorate  in Sa'ada governorate. Four air raids destroyed two houses and two cars in the district of Majaz and launched two raids on the area of ​​Takhiyeh .
In Sa'ada, hostile aircraft also launched a raid on Razih district and 37 raids on Kataf district which was  targeted by Apache helicopters with more than 80 rockets .
The source pointed out that the air aggression launched a raid on the directorate of al-Msloub , three raids on the directorate of al-Kheband Shaf in Al-Jawf province, and six raids on Khaboub in the province of Lahj .
The source pointed out to the loss of material in the farms of citizens following a rocket attack by the mercenaries aggression on the village of Ayyal Mohammed in Nehim   directorate while a raid on Camp Sabra in Balad al-Roass directorate in Sana'a province .
According to the source, the aggression  launched three raids on Al-Shorfa and Al-Najah positions  in Najran, a raid on Hamda village in Jizan and three raids on  Assir ..