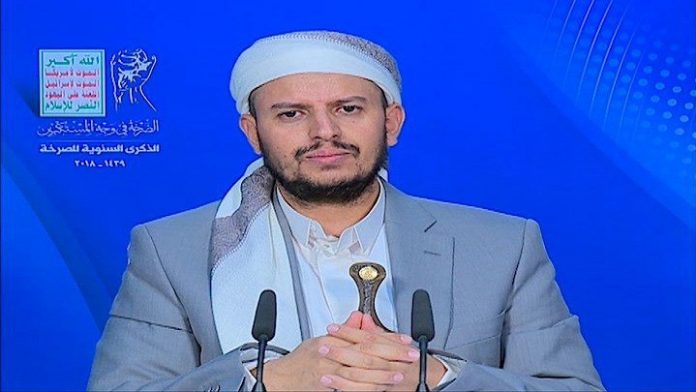 A-Thawra Net
The leader of the Yemeni revolution Sayyed Abdulmalik Al-Houthi on Friday denounced that the Saudi-led coalition mobilized his forces into the battle of the Western Coast, stressing on the importance of sensing each one's responsibility toward this escalation and confront it.
Al-Houthi said, during his speech on the anniversary of Ansar Allah movement's slogan" Sarkha", that the leaders of the coalition against Yemen are running their battle from the reality of dependence on America and Israel, while on the other hand, what motivates and boosts the morale of Yemenis is the fact that they are defending their freedom and independence.
Al-Houthi pointed out that despite the escalation of the US-backed coalition, this does not mean the end of the battle, adding that the field of Tihama in western Yemen is a proper site to inflict losses upon the coalition forces due to the nature of geography, which will lead to the dispersion of the forces of coalition.
Al-Houthi added that "our enemy is seeking to control us by controlling the performing media professionals so that they can make them serve the coalition," adding that "our enemy is going to raise our students on the erroneous methods serving the Israeli enemy."
The coalition is also working to support clerics who serve his approach as the body of senior Saudi scholars, he added.
"The region entered a new phase after September 11, in which America sought to control it with colonial and hostile motives," al-Houthi said.
"A Muslim can never be an agent of America and Israel," he said. "The principles of Islam are in no way compatible with what America and Israel want."
"The US and Israeli conspiracies that they want to impose on our nation are pushing us to collapse and disintegrate," he said.
Sayyed al-Houthi also addressed several local and international issues, stressing that the injustice of the Yemeni people is like the injustice of the Palestinians.