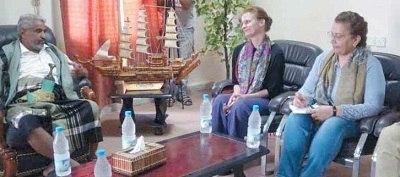 Al- Thawra Net
Acting Governor of Hodeidah province Mohammed Ayyash Quhim on Tuesday discussed with Deputy Head of the UN Mission to support the Hodeidah Agreement (UNMHA) Daniela Kroslak aspects related to the implementation of Stockholm Agreement.
The meeting reviewed the continued and increasing violations of Saudi-led coalition forces in the province, the most recent of which was the air bombing on al-Salif district, as well as the humanitarian corridors and the siege of al-Durayhimi district.
It was stressed during the meeting on the importance of opening the humanitarian corridors that were agreed upon in the sixth meeting of the Redeployment Coordination Committee and was emphasized in the seventh meeting, including a corridor to the al-Durayhimi district and a corridor to Hays district.
At the meeting, Quhim called the UN Redeployment Coordination Committee to play its humanitarian role in addressing the tragic situation experienced by the province's residents due to the continued violations of the coalition, which continues to hold oil, goods and relief ships and prevent their arrival in Hodeidah ports despite obtaining permits from the UN Committee.
He pointed out that the transfer of the inspection mechanism from Djibouti to the port of Hodeidah, according to the Stockholm Agreement, which has not been implemented, has increased the suffering of the Yemeni people in several provinces, indicating that what was implemented in this framework is only from one party.
Quhim expressed his surprise at the UN organization's silence on the violations committed by the coalition, the most recent the air raids on al-Salif, which is a flagrant violation of the agreement.
In this regard, Kroslak confirmed her rejection of the violations in Hodeidah, referring to the condemnation statement issued by the UN mission on the bombing of al-Salif by the coalition aircraft.
The UN official clarified that discussions are continuing with the relevant organizations on the humanitarian situation in the province, and the city of al-Durayhimi in particular.
She affirmed that the Committee would intensify its efforts in the coming weeks to deploy United Nations monitors in the observation points to ensure that violations are stopped and the Stockholm Agreement continues to be implemented.