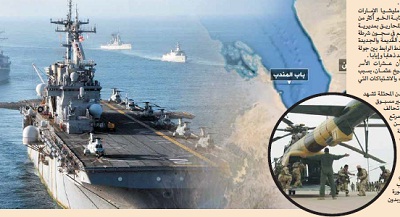 Al- Thawra Net
A media leader in the so-called UAE-backed Southern Transitional Council (STC) has revealed the arrival of US and British forces in Aden as the first batch of the largest force that Washington plans to deploy in strategic areas of the occupied southern provinces.
According to Fadi al-Murshidi, media leader of the so-called STC, 450 US and British soldiers arrived in Aden as a first batch.
Al-Murshidi had earlier revealed that Washington and London planned to deploy 3,000 troops to Aden, the Al-Anad base, the Lahj province, the Socotra island, and to the Shabwah, Hadhramaut and Mahrah provinces, under the pretext of combating terrorism.
Local media reported that a US force consist of 110 soldiers arrived on the Coast of Balhaf in Shabwah, reinforced by 10 Black Hawk aircraft and 30 Harvey armored vehicles, as well as four Patriot air defense systems, and an integrated field operations room that reached the coast of Balhaf in Shabwah province.
Two US warships docked at Balhaf port, Yemen's most important LNG export port, according to southern local media
Military experts say the intensified US moves in Yemen's occupied provinces are aimed at preparing for a possible US military intervention and preparing for the construction of US military bases on Yemeni territory.
These moves also confirm the reality of the aggression against Yemen and that it is an American-Israeli with distinction.
The residents of occupied Aden live a terrible reality in the light of the existing insecurity and the events of confrontations and assassinations between mercenaries and agents of aggression since its occupation by the Saudi-Emirati Aggression Alliance.
It is noteworthy that the occupied city of Aden is witnessing an unprecedented security deterioration since its occupation by the coalition of aggression, and turned it into a fertile place for terrorists from al-Qaeda and ISIS and a scene of confrontations and liquidations between the tools and mercenaries of the Saudi-led coalition.