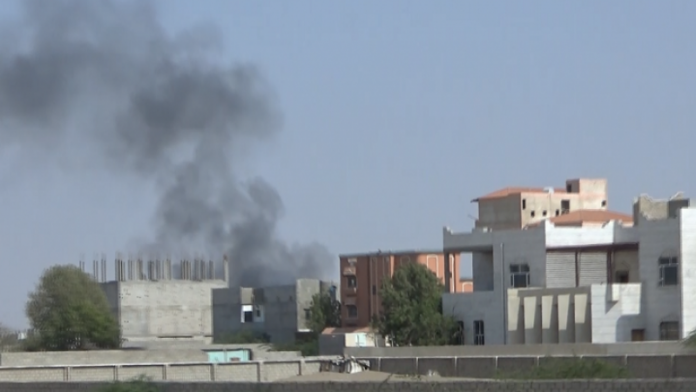 The aggression forces continued to violate the ceasefire agreement in Hudaydah governorate, and its warplanes  launched a series of raids on the governorates of Al-Jawf, Hajjah and Sa'ada, during the past 24 hours.
A security source said that the violations of the forces of aggression reached  to 93 violations, including five attacks on the control of 16 km area, the flight of two spy planes in the atmosphere of the city of Hayss and Al-Tahita and the developing of combat fortifications in the city of Al-Jah in the Beit Al-Faqih district.
The source added that the forces of aggression committed 26 breaches with artillery and missile strikes, for 126 shells and missiles, and 59 breaches with various bullets.
The source pointed out that the forces of aggression bombed a number of mortar shells in different places from the 50th Street, 16 km area and the mountainous area.
The aggression forces launched 14 mortar shells at the village of Al-Hafsh in the besieged city of Al-Darayhmi.
The source pointed that the aggression launched 7 raids in the Harad district of Hajjah, 7 raids on the Khub and Al Sha`f district in Al-Jawf, and a raid on the Al Salah area in the district of Burt al-Anan in the same governorate.
The source said that the brutal aggression targeted with 4 raids  the Al-Zahir District in Sa'ada, while populated villages in the border district of Razih were hit by Saudi missiles and artillery.
The source condemned the deliberate  targeting of the aggression to the homes of citizens.
It also condemned the silence of the international community and humanitarian organizations regarding these heinous crimes that the aggression coalition commits daily against the Yemeni people.
The source called on all the free and honorable people of the world to intervene to put an end to the systematic massacres and stop the aggression.