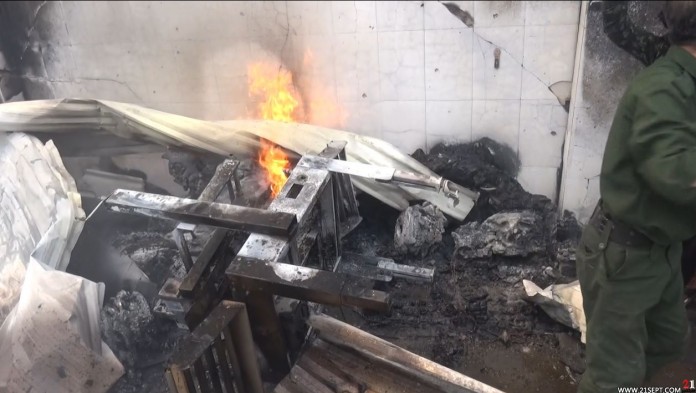 The aggression forces continued their violations in Hudaydah, and aviation launched 15 raids on three governorates and Jizan, targeting rocket and artillery shelling of the border areas in Saada during the past 24 hours.
A security source pointed out that the violations of the aggression forces amounted to 108 violations, including five attacks on the control of kilo 16, the creation of new combat fortifications in the kilo 16 area, the flight of a warplane in the airspace of the city of Al-Faza, and six spy planes in the airspace of the Sana'a and fifty streets, and the two districts of Al-Mashhar, Kilo 16 and the cities of Al-Shaab and Al-Faza.
The source pointed out that the violations included 33 breaches with artillery and missile shelling of 85 shells and missiles and 60 violations with various bullets.
The source said that the forces of aggression targeted the mountainous district of Al-Tahita district with a Katyusha missile and a number of artillery shells, and shelled seven mortar shells at the village of Al-Shujan, on the outskirts of the besieged city of Al-Darayhi.
The source reported that a Saudi missile and artillery bombardment targeted populated villages in the border district of Razih in Sa'ada governorate, and the aircraft launched two raids on Wadi Jarah in Jizan.
The source pointed out that the aggression air forces launched nine raids on the Al-Mazraq area and separate areas in the Harad district in Hajjah governorate, and three raids on the Al-Ytamh and Muhamasheh areas in the Khub and Al-Sha`f district in the Al-Jawf governorate.
The aggression warplanes also launched a raid on the Habab district in the Sirwah district in the Ma'rib governorate.
The source condemned the continuation of the US-Saudi-Emirati aggression and those involved in treason by violating the ceasefire agreement in Hodeidah and targeting the densely populated villages in the various governorates in a clear intent to commit crimes and bloodshed.