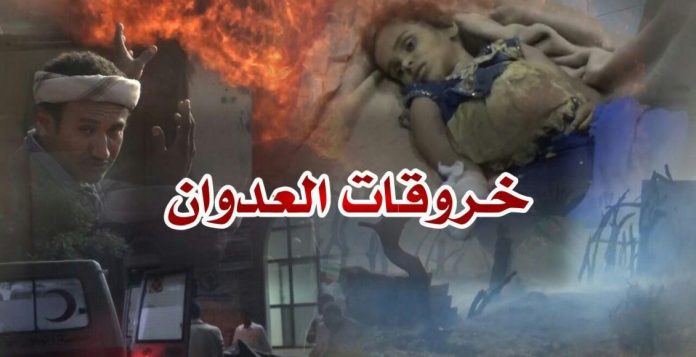 Al-Thawra Net
The  Saudi-led aggression forces continued to violate a ceasefire agreement in Hodeida province on Wednesday, a military official told Saba on Thursday.
The official said that the aggression forces committed 261 violations, including 21 spy planes flying in the airspace of Hays, al-Jah,al-Jabaliya, Tuhayat,  50th. St. and Kilo 16 St. areas.
36 violations of artillery shelling and 204 violations of various bullets were also recorded, he said.
He stated that the aggression forces bombed al-Udain Triangle in Hays district with more than 13 artillery shells and more than 11 shells on the south of al-Tuhaita district.
The official added that the aggression forces fired nine shells on al-Za'afaran village in Kilo 16 area in al-Hali district.
He stated that the aggression warplanes launched a raid on Majaza al-Sharqiya area in Asir region and a raid on al-Fara' area in Ketaf district and two raids on Baqim district in Sa'ada province.
Meanwhile, the aggression coalition warplanes waged three raids on Jabal Murad district in Marib province and four airstrikes on al-Mehmasha and al-Thaluth Souk in Khab Washa'af district in Jawf province.