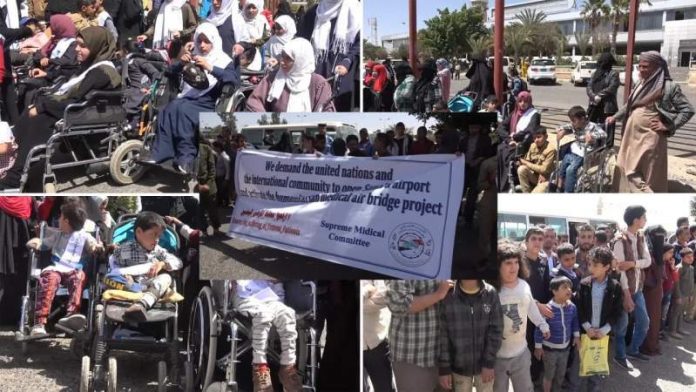 Patients, who need to have treatment abroad, organized a protest, Sunday, at Sana'a international Airport, condemning its arbitrarily closure by US-Saudi aggression.
In a statement release by the protest, the Humanitarian campaign called on the free world and international organizations to pressure Saudi-led aggression to open Sana'a Int.Airport, at least for patients.
They are reminding the world that Sana'a Airport is a civilian airport, and international laws and norms do not allow its closure.
"What Saudis are doing is a war crime in which the world participated in with its silence."
For his part, the head of the Supreme Medical Committee, Dr. Mutahar Al-Darwish, confirmed that Sana'a Int. airport is a vital artery for 120,000 patients who cannot be treated in Yemen and cannot travel through other land crossings. He indicated that the Humanitarian Medical Air Bridge project was stalled and hundreds of patients died while they were waiting.
The Director General of Sana'a International Airport, Khaled Al-Shayef, confirmed that Sana'a Airport is ready to operate flights at the moment of lifting the siege.
He pointed out that the United Nations is complicit and is satisfied that Sana'a Airport is closed to the Yemenis and opened to its employees.