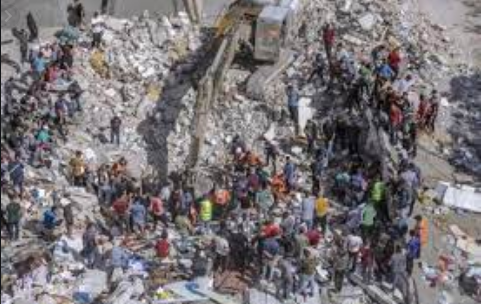 Israeli occupation went ahead with its brutal aggression on Gaza for the seventh consecutive day, as the Palestinian Resistance continued to retaliate by pounding dozens of rockets at the occupied territories.
Israeli warplanes launched early on Sunday what the occupation said was the "most intense raids yet".
Palestinian media said the raids early on Monday killed at least 26 Palestinians and injured dozens more, flattening at least two residential buildings.
In a revised toll, Gaza's Health Ministry said that so far, 174 Palestinians have been martyred in the Israeli strikes, adding that 1,200 others were wounded.
For its part, the rockets launched from Gaza at the Israeli depth didn't stop, with Israeli daily Maariv said 120 missiles have been fired since 19:00 on Saturday.
Israeli media said of the 120 rockets, at least 40 targeted Tel Aviv and its suburbs.
10 Israelis have been killed since the latest round of fighting started last Monday, according to Israeli media.
Al-Qassam Brigades, the military wing of Hamas Palestinian Resistance movement confirmed it had fired dozens of rockets on Tel Aviv, Ashdod, Ber Sheva and many settlements bordering Gaza strip.