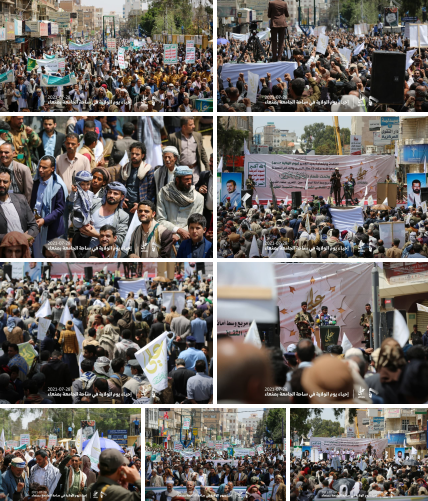 The Capital Sana'a and other provinces have on Wednesday witnessed mass rallies in several main squares to celebrate the annual anniversary of " Al-Walaya Day ", in which prophet Mohammed (Peace Be Upon Him) Selected Imam Ali ibn Abi Talib as his successor.
In the capital Sana'a, three marches took place, in which thousands of people gathered in the western square of the Thawra Park, the Dayari Square in front of the old university gate, and the southern square of the Sabeen Park, while two mass rallies for women were held in the square of the People's Mosque and al-Thawara stadium.
The participants declared their allegiance to Allah, the Messenger, to Imam Ali and to the nation of Huda (peace be upon them), chanting the slogans of freedom rejecting hegemony of the devil forces the forces in the world, led by America and the Zionist entity.
The participants in the celebrations emphasized that they would follow Imam Ali's approach and would learn lessons from his life, specifically his courage and heroism in the face of tyrants and oppressors.
During the rallies, speeches, poems and songs were delivered, emphasizing  and expressing the greatness of Imam Ali, his wisdom and sacrifices in confronting the tyrants.
In the context of this morning, mass celebrations were held in various directorates of Sana'a province, in addition to Saada, Taiz, Hodeidah, Amran,  Jawf, Hajjah, Mahweet, Dhamar, Raymah, Ibb, Dhalea and Bayda provinces .
Eid al-Ghadir marks the occasion on which the Prophet Muhammad publicly proclaimed Ali as his successor as leader of the Islamic Ummah. The day is celebrated by Muslims around the world.