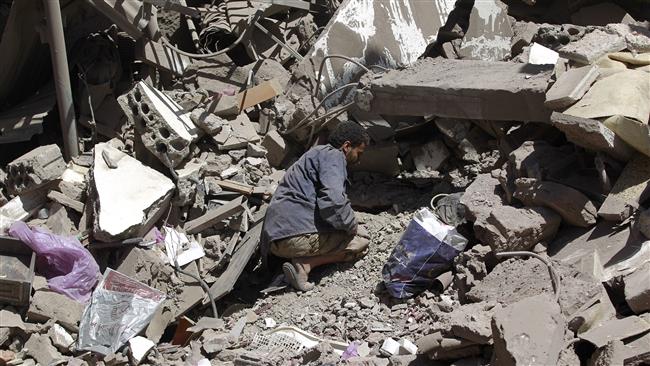 Althawra Net
The Civil Coalition for Monitoring Aggression on Yemen said in a statement on Tuesday that the death toll from 255 days of the Saudi airstrikes has topped 7,495, adding that the incessant attacks have left 16,058 others wounded.
The report said the attacks have inflicted damage on hundreds of critical installations in the civilian infrastructure.
The monitoring group said Saudi warplanes have targeted, among others, 105 safe water networks, 108 power plants, 14 airports, 304 bridges, 104 road networks, 10 ports, 244 market places, 472 food warehouses, 212 gas stations, 1,231 schools and education centers, 34 universities, 844 governmental institutions, 161 workshops, 29 sport clubs, 214 health facilities and 564 mosques in all the provinces of Yemen.
Saudi warplanes continued to target residential areas across Yemen on Tuesday.
Massive explosions shook the city of Taiz, located about 346 kilometers (214 miles) south of the capital, Sana'a, as Saudi fighter jets launched airstrikes against the international airport in the southwestern Yemeni city.
The warplanes also hit the al-Omari camp north of the Bab al-Mandeb Strait and off Yemen's coast as well as the al-Arqoub military camp, which lies east of the capital.
Also a Yemeni fisherman lost his life on Tuesday, when Saudi frigates fired a number of missiles at the Mokha port city, about 346 kilometers (214 miles) south of Sana'a.