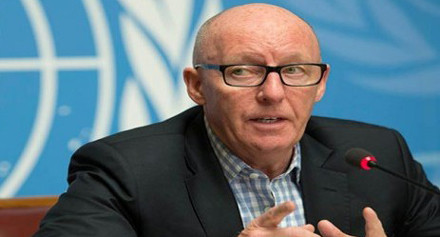 Al-Thawra Net
Jamie McGoldrick, U.N. Humanitarian Coordinator for Yemen, stressed that the humanitarian situation in Yemen has severely deteriorated.
In a press conference held in Sana'a March 16th, McGoldrick explained that the air strikes caused a lot of tragedies that led to poor humanitarian situation and the lack of various services.
"After one Year of bombing about 14 million Yemenis in a severe need of humanitarian assistance and 6.7 million suffer food insecurity," McGoldrick added.
McGoldrick pointed out that about 1,200  schools were damaged and more than 600 health center, " half of the population in Yemen are no longer able to access health services and ten million is no longer able to get clean water".
He added that the UN launched a humanitarian response plan for the year 2016
humanitarian response to Yemen's plan appeal for US$1.8 billion to provide critical and life-saving assistance to 13.6 million people who have been affected by the escalation in conflict across the country.
He called the international community to provide more support to help the Yemeni people and respect the humanitarian law.
UN official confirmed that no military solution in Yemen and a political and peaceful solution through dialogue is the only solution.