Al-Thawra Net
"Even dogs are better than some of the global institutions and structures,"  a pointed message was sent by Subay through his newest mural at the corner of Hackney Rd and Cremer St, London, UK, April 14, 2016.
Murad Subay, a Yemeni street artiest, started his newest mural within "Ruins" campaign outside Yemen to send a message about the international community's lack of humanity, especially toward his homeland Yemen.
Subay said that Yemenis suffer greatly due to the internal and regional conflicts in Yemen under a great silence of the international community,  "they are going through these hard times alone, while the international community and media are overlooking the daily violations that faces millions of Yemenis such as the killings of civilians, the denial of humanitarian access, the destruction of homes, schools, hospitals and infrastructure, the restrictions on freedoms and other violations."
" Yemenis go through all of this while the international community and the world turn their backs on them," Subay added.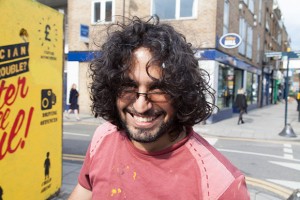 "Ruins" is a new campaign to paint on what is left of the walls after targeting Yemen by the external and internal wars in Yemen. The campaign was launched on May 18, 2015, in Bani Hawwat area, Sana'a Governorate, where the air strikes destroyed more than seven houses, killed 27 civilians, including 15 children.
"Among those who joined me in drawing were the youth and children of the area as well as some friends who came with me from Sana'a," he said.
Subay said that Ruins campaign is currently targeting the areas that are destroyed by the air strikes Sana'a governorate, "the campaign aspires to move to Taiz, Aden and other provinces that are subjected to destruction, but only if the appropriate conditions allowed us to move."
Since 2011 he's created campaigns to encourage Yemenis to express their outrage at what their country has become. He and his collaborators have coloured walls, named the disappeared and marked ruins.
He always works during the day. It's always a part performance, part collaboration. "Thursday 14 April was no different. Only the location had changed,"  according to a word by Alessio Perrone and Sean Gallagher.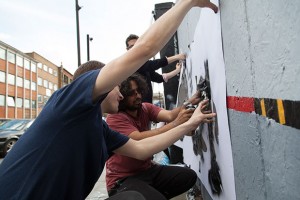 In London, to receive the 2016 Freedom of Expression Arts Award for his work, Subay stressed that his work is for Yemen. His acceptance speech was dedicated to the "unknown people who struggle to survive".