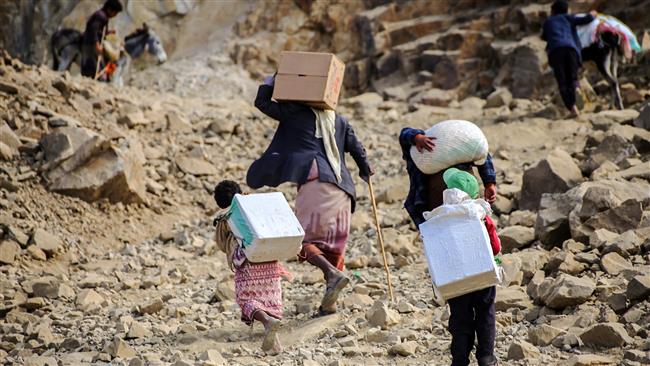 Al-Thawra Net
The UN has voiced alarm over severe food shortages across war-torn Yemen amid relentless Saudi attacks, saying the country is "one step" from famine.
Over 10 million Yemenis need basic healthcare and over 7.6 million "are severely food insecure," said John Ging, director of operations at the UN's Office for the Coordination of Humanitarian Affairs (UNOCHA) on Tuesday.
He added that this is one step below the level of famine on the international index of food insecurity, " so it's a very fragile situation, and it's a huge number of people that are in that status".
"The nutrition situation in Yemen is also very acute," Ging said, adding, "From January to April this year, over 56,000 children were found to be suffering from severe acute malnutrition."
Yemen has a population of around 27.5 million and Ging said almost 180,000 children are suffering from severe acute malnutrition, but the UN has only been able to reach 32 percent of them.
The UN official said there has been "a shocking fall off" in support from the international donors over the last few months for the millions of Yemenis who need food, clean water and basic healthcare.
Ging said the UN appeal for USD 1.8 billion to help more than 13 million Yemenis this year has been just 16 percent funded.
He urged the international community not to forget Yemenis who have been subjected to a Saudi military aggression since March 26, 2015.
Ging said the United States, United Kingdom, European Commission and Japan had contributed to the 2016 appeal.
He visited the Yemeni northwestern city of Amran and viewed the devastating impact and "terrible consequences" of Saudi airstrikes, including on a cement factory where 1,500 people lost their jobs, as well as flooding which caused many homes to collapse.
The UN official said more than 300,000 people have been displaced in the impoverished Amran Governorate, compounding the humanitarian problems.