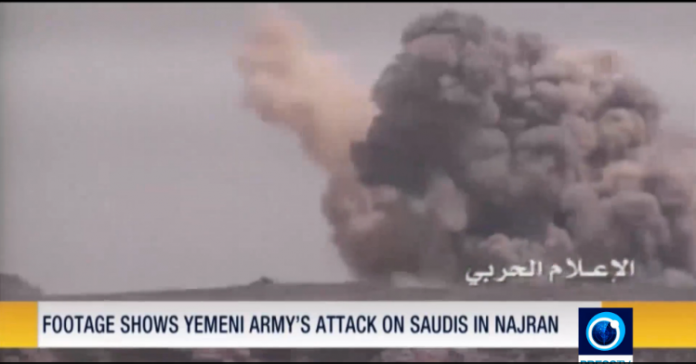 Al-Thawra Net
The media bureau of operations command in Yemen has released the footage of a joint missile attack by Yemeni army forces and allied Popular Committees fighters against Saudi border guards in the kingdom's southwestern border region of Najran.
The video, released on Thursday evening, shows flames leaping from a number of Saudi armored vehicles and tanks in one scene, and a watchtower targeted in Najran region, located 844 kilometers (524 miles) south of the capital Riyadh.
The footage also shows Saudi soldiers fleeing from their military camps, leaving behind their personal belongings and munitions. They did not even collect the dead bodies of their comrades lying on the ground.
Dozens of Saudi soldiers and officers have lost their lives and sustained injuries in the clashes.
The video was released on the same day as the Yemeni snipers shot and killed two Saudi border guards at the Khobe military camp in Saudi Arabia's southwestern border region of Jizan, located 966 kilometers (600 miles) south of Riyadh.