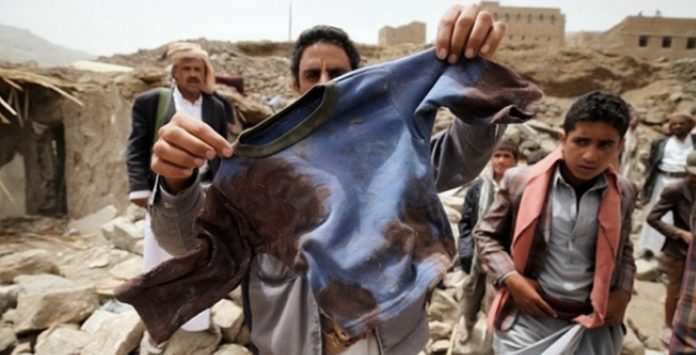 Al-Thawra Net
The taxi driver happened to pass by just after a volley of airstrikes hit a highway in western Yemen. The driver, Mohammed al-Khal, stopped, took a wounded ice cream vendor into his car and rushed him to the nearest hospital.
But the warplanes were still hunting. Moments after al-Khal pulled up at the hospital in the town of Abs, hell was unleashed.
That was the beginning of the ST. Louse Post-Dispatch (Stltoday ) report that was published on its website yesterday.
"A missile struck just outside the hospital entrance, "like a ball of fire," one witness said. Al-Khal, a father of eight, was incinerated in his car. The blast ripped through patients and family waiting in an outdoor reception area. Nineteen people were killed, along with two civilians killed on the highway." The report said.
According to the reporter, the attack in August typified what has been a pattern in the nearly 2-year-old air campaign by Saudi Arabia and its allies against Yemen. Rights groups and U.N. officials say the U.S.-backed coalition has often either deliberately or recklessly depended on faulty intelligence, failed to distinguish between civilian and military targets and disregarded the likelihood of civilian casualties.
Experts say some of the strikes amount to war crimes.
The report mentioned, "the Saudis have been committing war crimes in Yemen," said Gabor Rona, a professor teaching the laws of war at Columbia University. He pointed to "indiscriminate targeting, that is, attacks in which the attacker makes no effort to distinguish between combatants and civilians." And he warned that American personnel helping the coalition "may also be guilty of war crimes."
Nearly 4,000 civilians have been killed since early 2015, and an estimated 60 percent of them died in airstrikes by the Saudi-led coalition, the U.N. says. Around one in three strikes hit civilian targets, according to the Yemen Data Project, an independent group of researchers that has put together a database of more than 8,000 strikes.
"In the Aug. 15 strikes in Abs, the original target was a small checkpoint manned by two rebel fighters on a highway far from any frontline. Of 21 people killed, none appears to have been a combatant. The two fighters escaped the initial missile, witnesses told The Associated Press, yet warplanes fired two more, spraying bystanders with shrapnel. It appears they then followed al-Khal's Camry, believing it was carrying a fighter, and hit it with a fourth missile at the hospital entrance," the report pointed out.
Moreover, the hospital, which was run by the international humanitarian group Doctors Without Borders, was on the coalition's own computerized list of sites that should not be targeted.
"Any way you look at it, it is a war crime," Rona said.
The report confirmed that each strike that day was carried out with a Paveway guided missile system, built by an American company and sold to Saudi Arabia — a sign of how the United States has become mired in Yemen's war. Washington and its allies have sold billions of dollars in weapons to Saudi Arabia for the campaign, and the U.S. military has been providing it with intelligence, satellite imagery and logistical help.
However, Washington underlines that it does not make decisions on strikes, and it calls on the coalition to investigate any claims of violations. "U.S. security cooperation with Saudi Arabia is not a blank check," National Security Council spokesman Ned Price said in October.