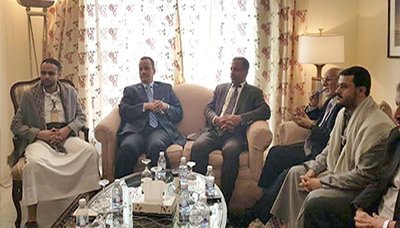 Al-Thawra Net
January 24th, the national delegation met on Monday with the UN special envoy for Yemen Ismaïl Ould Cheikh Ahmed.
The national delegation reiterated its position adhering to comprehensive suspension of the US-Saudi aggression on Yemen.
The national delegation also confirmed to lift the unjust blockade on the country at the forefront on Sana'a International Airport to allow citizens' movement to and from Yemen as well as transfer the injured people due to the US-Saudi aggression against the country for treatment.
The national delegation pointed out to the extreme suffering encountered by the Yemeni sick and wounded who are stranded at some airports because of the continued blockade and the closure of airspace in front of flights.
He pointed out that the UN envoy's visit to Yemen coincided with the continuation of the military escalation by the US-Saudi aggression and its mercenaries through military intensive advances and hysterical aerial bombardment and military operations across various provinces which led to the death and injuries to many civilian, including children and women.
The national delegation noted the increasing reports of international organizations, including the UN about the catastrophic humanitarian situation caused by the continued aggression and siege, particularly in the food and health sector.
They stressed that the insistence of aggression and its mercenaries to try to move the central bank to Aden province has increased the deterioration of the economic situation and caused the non-payment of salaries of state employees for four months, which created the suffering of an unprecedented reflected the negative effects on the shoulders of the Yemeni citizen.
They also blamed the United Nations responsibility for its silence about it, calling the Secretary-General of the United Nations to take action to lift the injustice of the Yemeni people.