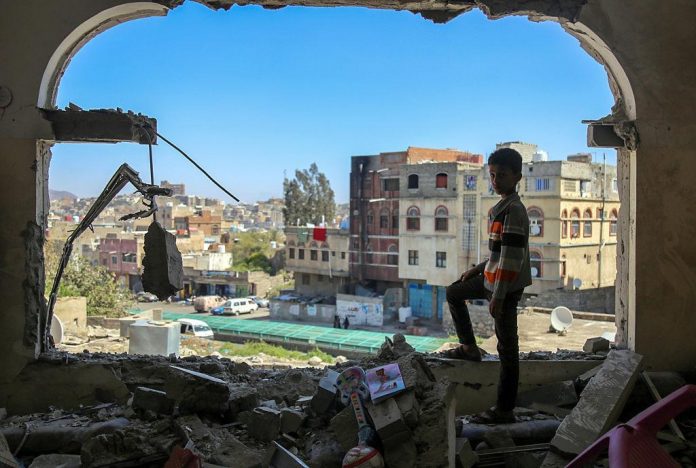 Bethan McKernan / Independent
'To help us is to end the war, not send shipments of guns, and hold a "sorry" conference every other year', Yemenis say as diplomats gather for one-day aid summit in Geneva.
More than 10,000 dead. Approximately 19 million people in desperate need of humanitarian aid, including 7.3 million on the brink of famine. The figures in Yemen's two-year-old civil war are staggering – but they don't convey the daily suffering of civilians.
"The numbers do not show the human aspect. Unlike Syria, where news about the devastation and death makes it to the media very quickly, Yemenis suffer in silence," said Sherine El Taraboulsi-McCarthy, a research fellow at the Overseas Development Institute.
With the country's airports as well as land and sea borders controlled by neighboring Saudi Arabia, no Yemeni refugees are fleeing to Europe in their thousands. Without any perceptible impact on the West or overspill of violence, the conflict has remained largely invisible.
The UN estimates $2.1bn (£1.6bn) is needed to pull Yemen back from the brink of collapse, but before humanitarians and diplomats gathered in Geneva, Switzerland, for an aid summit on Tuesday, just 14 per cent of that had been pledged by donor governments to date.
As the fate of 27 million people was discussed by foreigners sitting around the chamber at the UN's European headquarters, Yemenis trapped by the war struggle on with normal life as well as they can.
Often reduced to cliched descriptors such as 'the poorest country in the Middle East', Yemen's cultural identity – created by its unique position at the crossroads between the Middle East and the African and Asian continents – is far richer and more complex than the reporting on its conflict suggests.
The modern state, created in 1990, has always been poor and plagued by war, but its people have proved their resilience.
Yet in the last two years, Saudi Arabia and its regional partners have used the specter of Iran to justify an extensive bombing campaign over the country at the request of the exiled, internationally recognized Yemeni President Abdrabbuh Mansour Hadi.
Much of the devastation has been caused by arms sold to the kingdom by Western states such as the UK and US – a move which officials within Barack Obama's administration worried could amount to complicity in war crimes.
The Saudi economic strangulation, blockades on Yemen's air and seaports preventing the import of food and medicine and the targeting of vital infrastructure such as roads and bridges – and in some cases civilian buildings such as hospitals and funeral gatherings – have contributed to the dire situation Yemenis are now facing.