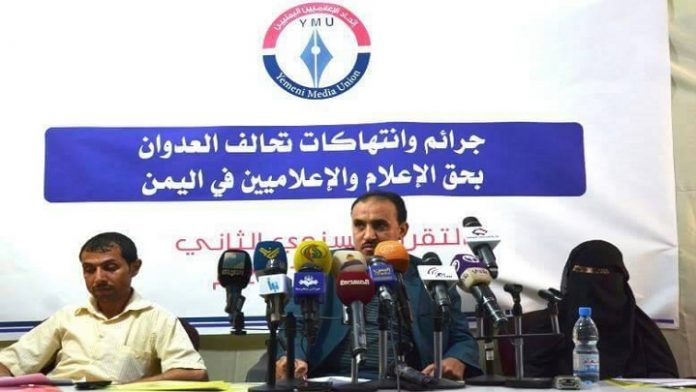 Al-Thawra Net
The Yemeni Media Union launched in the capital Sana'a its second annual report, regarding the crimes and violations committed by the coalition and its allies against journalism and its employees in Yemen.
In a press conference held in the YMU headquarters, the annual report recorded that more that 133 the deliberate violations were practiced against Yemeni journalist,  killing 60 of media members.
The report pointed out that among these violations, 9 journalists were injured, 12 cases of destruction of media facilities, 7 cases of suspension of broadcasting via Arabsat, and four cases of violation of local sites, channels and broadcasts by the Aggression Coalition and its mercenaries, as well as 8 cases of partial blocking of Nilesat and 28 cases of blocking on YouTube And five well-known accounts on Facebook.
The Yemeni Media Union called for the formation of an international commission of inquiry to consider the war crimes committed by the coalition against the media and the workers in Yemen.