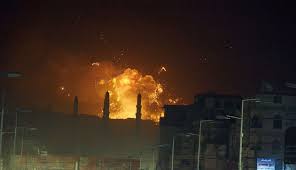 Al-Thawra Net
Two powerful explosions rocked the town of Marib in the early hours.
A military source told "Khobar" news agency  that the army  and popular  committees targeted by two missiles "Tadawin" camp of mercenaries which is located east of the city of Marib .
According to the source, preliminary information indicates that a number of mercenaries , including prominent leaders have been killed , weapons and military equipment were destroyed .
The source said the flames were seen rising from the camp .Tadaouin camp is a military base for the aggression forces and their mercenaries .