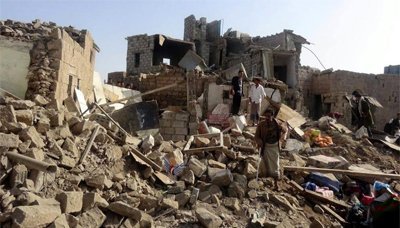 The Saudi warplanes  launched 47 raids on six governorates  and Najran. The shelling targeted the border areas, killing 13 civilians and destroying homes and property in the past 24 hours .
A military source told SABA  that a child was wounded by a rocket attack on residential areas in the border area of Razih. An elderly man was also injured and a house was damaged by a rocket attack and a Saudi gunman on residential areas of the border district of Raizh .
The source pointed out that the hostile aircraft launched three raids in the province of Sa'ada, two raids on the district of Sohar, and six raids on a number of areas in the  directorate of  Razih, and targeted four raids in the  directorate of Kataf .
Residential areas in  Hidan area were hit by a rocket and a Saudi gunman .
The source said that seven citizens were killed and four others injured after a raid on the directorate of Hawk, Hodeidah province, and launched a raid on the home of a citizen in the directorate of Balad Al-Roass  in Sana'a .
The source pointed out that the  aggression launched two raids on the area of ​​Wazan directorate of Damna Khadeer in the province of Taiz, and raid on the area of ​​Karash in the province of Lahj, and launched 24 raids on different areas of the departments of Harad and Midi in Hajjah .
In Najran, the Saudi air force launched two raids on  al-Tala position .