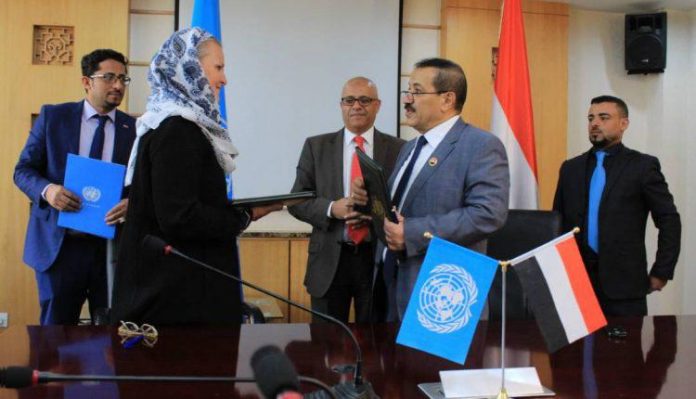 Al-Thawra Net
Yemen and United Nations on Saturday signed a memorandum of understanding to establish a humanitarian medical airlift.
The Memorandum was signed by Foreign Minister Hisham Sharaf Abdullah and United Nations Resident Representative Humanitarian Coordinator in Yemen Lize Grande.
The memorandum includes the enabling medical transfer of patients with critical conditions to receive treatment abroad, through scheduled United Nations flights for six months starting September 18, 2018.
The Foreign Minister said that this memorandum comes as a first step to alleviate the suffering of patients in need of treatment abroad, which the coalition has prevented them from traveling through Sanaa International Airport.
He stressed that this step does not mean to delay the demands o reopen Sanaa International Airport to commercial and civil flights.
The step is purely humanitarian in nature since the airlift covered only very limited cases, but it was necessary in the light of the continued blockade, he added.
He reiterated his call for the reopening of the Sanaa International Airport which is a sovereign human right of Yemen and its people, in order to alleviate the suffering of the Yemeni people, especially patients, students, and businessmen.