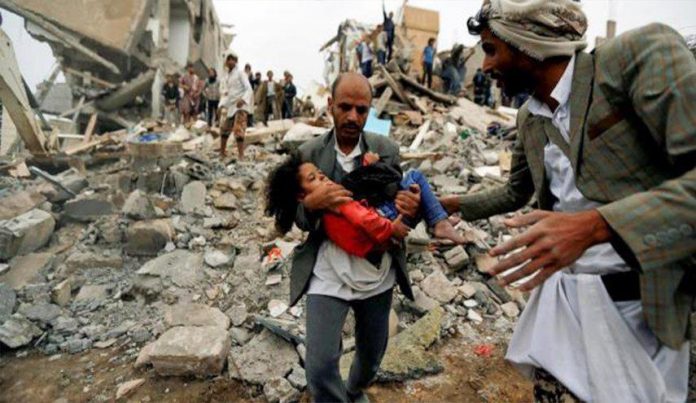 Saudi aggression and its mercenaries escalated air raids and artillery and missile attacks on Hodeidah and several other governorates over the past 24 hours, resulting in the death and wounding of six citizens, including women.
A security source told SABA that a citizen was killed and two women were injured by shelling of the invaders and mercenaries on their house in Al-Druahmi  city.
The source pointed out that the invaders and its mercenaries fired more than 15 Katyusha rockets on the village of al-Zaafran and its surroundings in the area of ​​Kilo 16.
The Saudi mercenaries shelled the area of ​​Kilo 7 and a number of residential neighborhoods in the area of ​​July 7 residential and airport, and shelled a number of artillery shells towards the tour of Yemen Mobile and the Union Hotel and the 50th Street.
The source confirmed the death of a citizen and the injury of another in a series of raids of the in the province of Rima, and launched two raids in the same province.
A citizen  was killed in Dhamar province by  the seven raids  launched by the aggression  warplanes on the directorate of Wsaab.
The source pointed out that the warplanes of the aggression launched a raid on the directorate of Bani Saad in the province of al-Mahweet, and a series of raids on the directorate of al-Zaher and three raids on the directorate of Kataf in Sa'ada province.
Saudi artillery shelling targeted homes and farms in the directorate of Baqem.