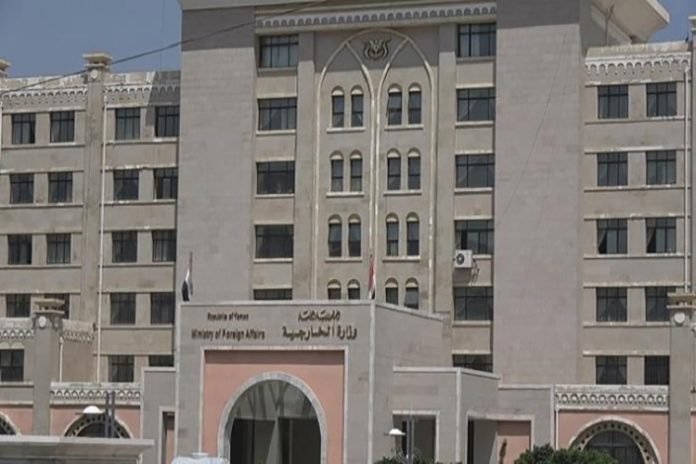 Al-Thawra Net
The Ministry of Foreign Affairs in the National Salvation Government on Saturday has commented on the statement issued by the so-called quartet meeting, which includes two members of the aggression States ( Saudi Arabia and The United Arab Emirates) backed by the US and Britain.
"The statement is a repetition of their previous statements that disregard the rights of the Yemeni people and their suffering over past four years," an official source in the Ministry of Foreign Affairs said in a statement to Yemen Saba News Agency.
The official added that what the Quartet is saying about its commitment to a comprehensive political solution in Yemen, needs to move from sheets and talking to the media to the actual and practical implementation on the ground.
He pointed out that the political leadership and the National Salvation Government announced on more than one occasion to ensure the achievement of a just and honorable peace for the Yemeni people.
"If the countries of the so-called Quartet are serious about moving towards a political solution, they must immediately stop the aggressive military operations, they must stop targeting civilians and installations in all governorates and to start lifting the siege on Yemeni ports as well as reopening Sana'a International Airport as a gesture of goodwill," the official said.
" It must stop its continued coverage of the violations of its allies and the disruption and obstruction of the Stockholm agreement," the statement read.
He called on those countries to resolve their differences with Iran away from the lands, waters and airspace of the Republic of Yemen and to be aware that Yemen is an independent and sovereign state
"It's useless for those four countries to transfer their differences with the Islamic Republic of Iran to the Yemeni arena, therefore there is no need to engage the Iranian issue in the reality of aggression on Yemen, " the official said.
He concluded his statement by reiterating the full commitment to the implementation of the Stockholm Agreement, pointing out that the practices of the other party, including the Quartet, confirm the lack of goodwill and lack of seriousness and credibility in the direction of peace and peaceful political solution.