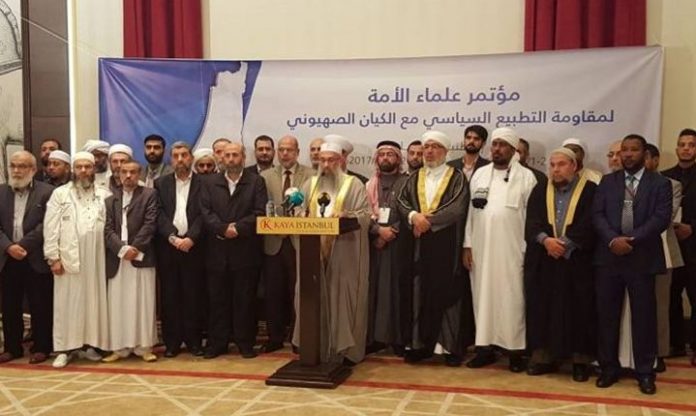 Al- Thawra Net
Muslim scholars around the world called on Arab and Muslim peoples to demonstrate on Friday to reject and denounce the crime of Bahrain's conference scheduled for Tuesday in Manama.
More than two dozen groups of Muslim scholars warned that a conference set to start tomorrow on a U.S. Mideast peace plan is "a very dangerous step in conspiring against the Palestinian cause, with the aim of eliminating the ummah's first cause."
"Instead of rejecting and resisting this plot, we see the rush of some Arab leaders racing each other to serve the enemies with money and conferences, the most recent of which is the Bahrain conference entitled 'Peace to Prosperity'," the Muslim scholars told reporters in a joint statement issued on Tuesday.
The scholars also called on the people of the ummah to demonstrate on Friday as an expression of their rejection and condemnation of the two-day conference set to start Tuesday in the Bahraini capital.
Palestine is an Islamic land that belongs to the entire ummah, not only the Palestinians, and the whole ummah must work to liberate it from the hands of the Zionists, and no one, whatever their position or place, should give up a slight part of it or admit the Zionist claims to it, the scholars said in the statement.
The scholars added that according to Sharia law it is not legitimate to make any agreement with the Zionist enemy that recognizes or admits its right to establish its entity on our blessed land, or any part thereof, according to the statement.