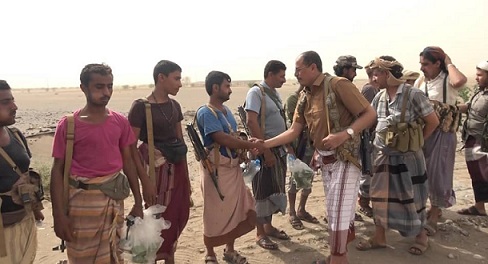 Al- Thawar Net
Yemeni Minister of Information Daifallah al-Shami has stressed the importance of continuing to support the army's fighters stationed at the West Coast Front, in order to thwart the plans of the Saudi-led aggression and its mercenaries aimed at occupying the western province of Hodeidah.
The Minister of Information, while inspecting the conditions of the Yemeni army and Popular Committees in a number of locations in the West Coast Front, explained that the heroic battles in the region are a source of pride for all the people of the country.
He pointed out that the continued attempts by the forces of aggression to advance their violations of the ceasefire and their establishment of new military fortifications are aimed at thwarting the Swedish agreement on the province of Hodeidah.
Minister al-Shami praised the steadfastness of the army and Popular Committees in the defence of the homeland and its security and stability.
He stressed that everyone stands by the army forces through the continued support of the fronts with men and finances, until victory is achieved.
During his visits to those stationed in the Faza, Al-Madina and Tuhyta fronts, the Minister of Information noted the achievements made by the Air Force and Missile Forces in targeting the depth of the enemy's lands.
Meanwhile, the army and Popular Committees expressed their gratitude for the Minister's visit, which comes in the wake of Eid ul-Adha.
They stressed their continued steadfastness in confronting the forces of aggression and its mercenaries, up until the liberation of the entire territory of the homeland is achieved.