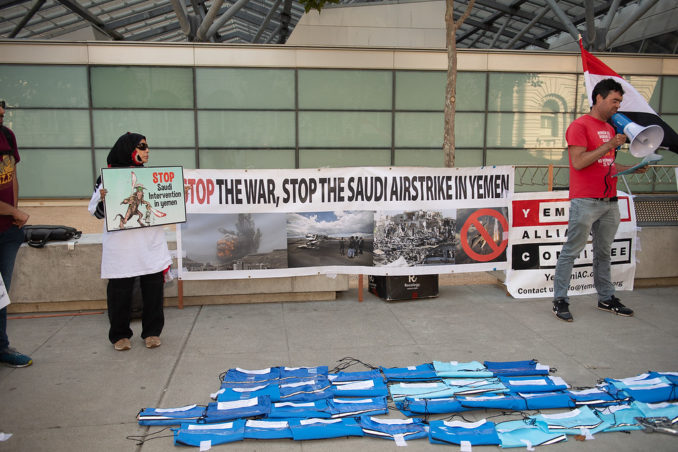 Al- Thawra Net
Yemeni communities organized protests across the U.S. during August demanding that Washington stop its support for Saudi Arabia-led attacks on Yemen. These attacks are by a Saudi-led coalition in a nearly five-year-long war in Yemen.
The protests in the U.S. marked the one-year anniversary of the Aug. 9 Saudi bombing of a school bus in Yemen. Forty Yemeni children on a school trip were killed and 56 injured, along with 90 adults who were either killed or injured.
CNN reported that the weapon used was a laser-guided bomb made by Lockheed Martin and sold to the Saudi government. This bomb was part of billions of dollars of exported weapons arranged by the U.S. government.
In Detroit on Aug. 23, protesters gathered downtown where Hanan Yahya, active in the Yemeni Alliance Committee, told the Detroit Free Press: "The U.S. role is vital, and if we are able to withdraw U.S. support, we can help end the war." U.S. Rep. Rashida Tlaib of Michigan's 13th Congressional District was present: "We need political courage right here in the United States to speak up for Yemen."
In San Francisco, the Yemeni Alliance Committee Bay Area held a protest against U.S. involvement in the conflict at House Speaker Nancy Pelosi's office.
Blue school bags representing children killed in the Saudi airstrike were stacked on the sidewalk at the Aug. 16 rally.
The U.S. has given the Saudi coalition of Persian Gulf monarchies a range of military aid to attack Yemen, including refueling for Saudi planes that bomb civilians, satellite information for bomb targeting and U.S. military forces who work with the Saudis.
Recently the United Arab Emirates pulled out of the Saudi-led coalition, weakening the Saudi position in Yemen.
Nevertheless, the continuing war has created an immense humanitarian crisis for the Yemeni people.
According to a June 2019 report of the U.N. World Food Programme, 24.1 million people in Yemen are in need of humanitarian assistance; 3.3 million people are internally displaced; and 20.1 million people are food insecure.
In November 2018, UNICEF Regional Director Geert Cappelaere declared Yemen to be "a living hell for children." Cappelaere noted that every year 30,000 children die there because they do not get enough to eat. And 1.8 million children suffer acute malnutrition and are more susceptible to diseases, like cholera that has begun to run rampant.