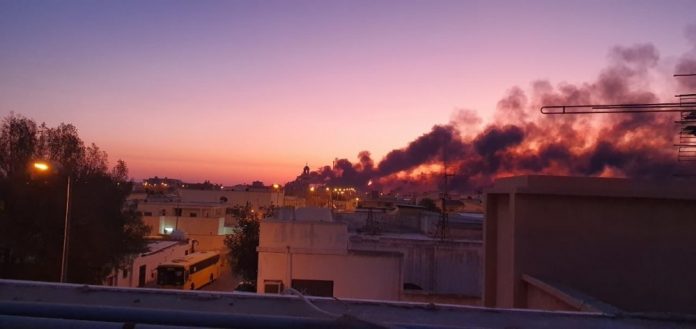 Al- Thawra Net
The latest Yemeni attacks on Saudi Aramco facilities at Abqaiq and Khurais plants represents a dividing line in the Saudi-led coalition war on Yemen.
The strike resulted in an unprecedented rise in oil prices in the world markets, as a result of the military strike.
The military equations between Yemen and the coalition countries will undergo a radical transformation, as a result of the strike on the Saudi Gulf field, which produced five million barrels per day equivalent to 5 percent of the world's oil production.
According to economic analysts, the repercussions of the strike of the Abqaiq and Khurais plants will push the countries of the world to take into account the concerns arising from the Yemeni retaliations, given the fact that there are indicators that show Yemen likely to repeat such strikes on Saudi oil facilities, and disrupt Saudi capacity to continue fueling the global fuel needs.
Some predict that slow international moves to resolve the Yemen issue will see a rapid change to stop the war, fearing a crisis in the global economy.
According to some political analysts, Yemen's strategic plans to prepare the international stage to withstand the economic consequences of such strikes are admirable.
Yemen has been sending several warnings to the international community to take precautions against the attacks that could have been controlled, such as the attack on the Shaybah field and refinery on August 17, and the attack on oil conversion stations in Dodami and Afif in May.
Before launching strikes that would shake the world economy, in a political move that prevented the Saudi regime from exploiting any global discontent as a result of high oil prices and directing that discontent against Yemen.
According to a number of observers, Riyadh has become a huge backlog of failures in its war on Yemen, after the US air defense systems failed to protect the kingdom from escalated Yemeni attacks.
Saudi Arabia has come to bury its head in the sand like an ostrich, by denying that it is being beaten by Yemen, and trying to make accusations against other countries, in order to tell the international community and investors that Saudi Arabia's war on Yemen poses no threat to the kingdom.
However, the facts prove the opposite of the claims promoted by Saudi Arabia, and that attempts to ignore the truth by Riyadh will not help it end its problems caused by the War on Yemen, especially since no one is able to pay the bills of Saudi failure.
The report of the UN Panel of Experts said in January that Sana'a was able to make drone aircrafts from materials available in the market.
The report added that Sana'a has drones that can hit targets deep inside Saudi Arabia and the UAE, with a range of 740 and 930 miles (1200 and 1,500 kilometers). The oil field of Abqaiq is 1,300 km away from the nearest point at the Yemeni border.