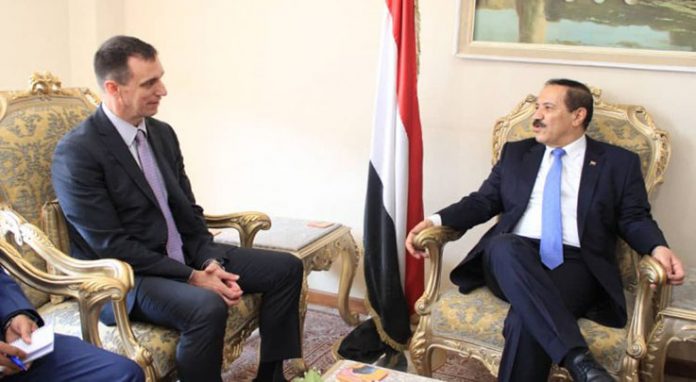 Al- Thawra Net
The National Salvation Government, its agencies and bodies provide all facilities for the work of the United Nations and assume responsibility for providing security for it and its crews during being in the governorates under the leadership of the Supreme Political Council and the National Salvation Government Administration, Minister of Foreign Affairs Hisham Sharaf has affirmed, in order to ensure the continuation of providing humanitarian and relief services to citizens.
Sharaf made the remarks on Monday during a meeting with UN Under-Secretary-General for Safety and Security, Gilles Michaud, stressing that the capital Sana'a is one of the safest cities in Yemen, despite it having been subjected to airstrikes by the coalition of aggression, that have targeted civilians, housing and public facilities including schools and hospitals.
For his part, Michaud stressed the importance of the continued work of the United Nations and its organizations, programs and agencies in the provision of humanitarian and relief assistance in Yemen and expand its activities and whereabouts.
He pointed out that this requires the granting of visas to permanent and temporary staff, as well as to allow the entry of necessary logistical materials specified by the standards of the United Nations applied in all countries of the world, especially those exposed to humanitarian disasters.
The meeting was attended by Deputy Chief of the Office of Foreign Minister, Ambassador Salwa Al-Rifai, the UN Resident Coordinator in Yemen Lise Grande and a number of Foreign Ministry officials.
In the meeting, the attending delegates discussed aspects of coordination to enhance the security and safety aspects regarding the offices of organisations, programs and agencies operating under the United Nations and its staff in Yemen.