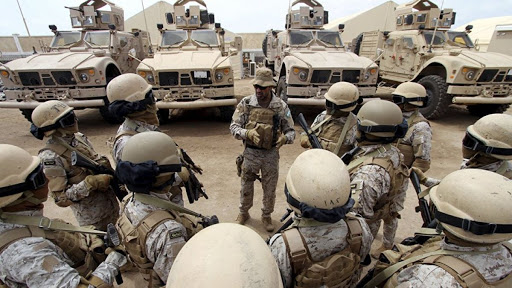 Intelligence sources revealed the landing of US and British forces on the western and southern coasts of Yemen.
The sources pointed out that the American forces carried out a landing operation for their forces at the marine pier in Ras Al-Ara in Al-Sabiha area of Lahj province.
The sources confirmed that British forces also carried out a landing operation for its forces in a number of locations, including the headquarters of the Oxen Company, located between the two districts of Al-Arish and Al-Alam in Aden province.
The sources added that there was another landing of British forces at the company's headquarters in Arama area, located in Shabwa province, in addition to the landing of other forces in the port of Shahr in Hadramawt province, according to Yemeni news portal sources.
The sources indicated that there is a US-British plan to control the Strait of Bab al-Mandab, the Persian Gulf of Aden, in addition to the southern coasts of Yemen.
This comes after the arrival of a US force of 110 soldiers, in mid-March, from Afghanistan, to Balhaf Port in Shabwa, reinforced by 10 Black Hawk planes and 30 Harvey armored vehicles, in addition to four Patriot air defense systems, and an integrated field operations room.
Whereas, in a tweet at the end of March, the Vice President of the pro-Emirati Southern Transitional, Hani bin Brik, welcomed the entry of the Fifth Fleet of American Forces into the Arabian Sea.
"The American forces, an ally of the transitional, are coming to combat the Brotherhood ISIS terrorism," Hani bin Brik said.