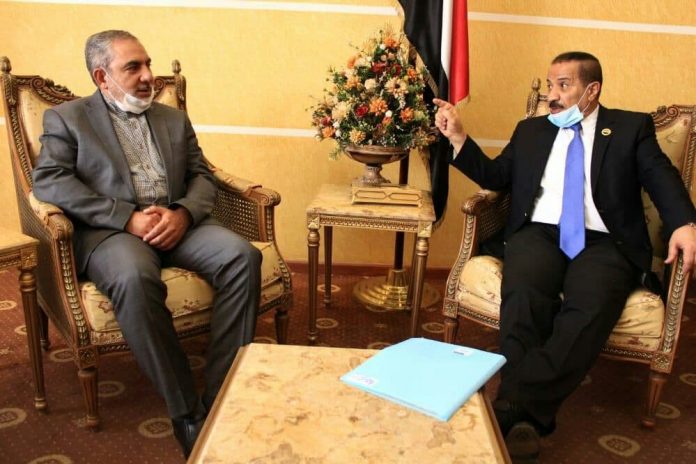 Foreign Minister Hisham Sharaf Abdullah met with the Ambassador of Islamic Republic of Iran in Sana'a, Hassan Erlo. During the meeting, they discussed ways to develop bilateral relations between Yemen and Iran and push them to broader horizons, especially in the fields of health, education and scientific research.
Minister Sharaf offered his appreciation for the principled stance of the Islamic Republic of Iran since the beginning of the US-Saudi aggression.
The minister also clarified that what is currently being discussed under the auspices of United Nations and US envoys with head of national negotiating delegation must include the spirit of Hormuz peace initiative in addition to peace initiatives that the international community hopes will set in view the supreme interest of Yemeni people and alleviate their suffering.
Foreign minister pointed out that Saudi Foreign Minister's recent statement to US channel CNN regarding the prospects for peace in the region and Gulf reflects a failed maneuver and falsification of facts to justify any upcoming normalization with Israel.
He also stressed that what was stated by Minister of Foreign Affairs of Riyadh is nothing but illusions of normalization and justifications that contradict reality of situation since 2015.
Riyadh has launched intense secret military cooperation in the aspects of aviation, air defense, naval exercises and the exchange of intelligence information with Tel Aviv, all of which were and are still directed against Sana'a and Tehran towards creating a military alliance to control the Red Sea and Arabian Sea.
The Iranian ambassador in Sana'a indicated his country's keenness to develop relations and provide support to Yemen, stressing that Tehran continues to make efforts to end the military aggression and lift the comprehensive siege imposed on Yemeni people. Erlo explained that Iran seeks to remove any tension in region and from this standpoint, it launched Hormuz Peace Initiative.