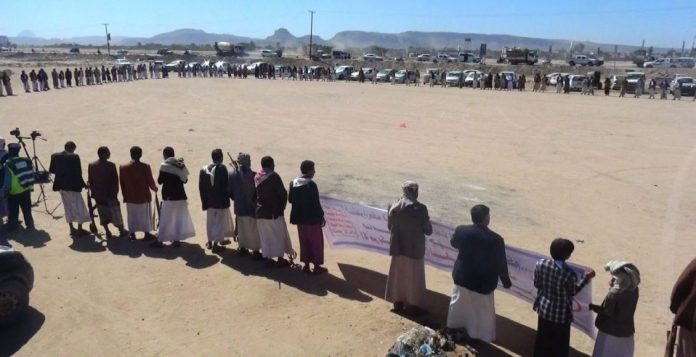 The General Federation of Trade Unions of Yemen (GFTUY) on Tuesday organized a mass rally in Sana'a to denounce unsettlement over continued maritime piracy and the detention of fuel ships by the forces of the US-led coalition.
The participants in the rally of the service, hygiene, and agriculture sectors and ambulances carried slogans and banners denouncing the arbitrary practices of the US-Saudi Aggression and piracy on fuel ships.
A statement issued by the rally condemned the continued denial of entry of oil ships into the port of Hodeida by the aggression, despite the fact that they had obtained UN permits.
The statement called on the international community to intervene urgently to release detained fuel vessels, without delay under international laws.
The statement called for neutralizing oil derivatives and not using them as a means of punishing the Yemeni people, as they are essential commodities for life.
The Executive Director of the Yemen Petroleum Company (YPC) Ammar Al-Adruree confirmed in a statement to the media that maritime piracy on fuel ships began two years ago, during which 730 vigils were carried out in front of the UN office in Sana'a, with the participation of government sector employees, the Federation of Trade Unions and oil stations to demand the release of fuel ships, but to no avail.
"The US-led aggression forces ignored repeated demands to allow the entry of fuel ships, continued piracy on oil derivatives ships and prevented their entry into the port of Hodeida, even though they were subjected to inspection and scrutiny procedures through the verification and inspection mission mechanism in Djibouti and obtained UN permits," he said.
He stated that the aggression coalition is still holding ten oil derivatives ships off the coast of Jizan and preventing their entry into the port of Hodeida. Fines incurred by the Yemeni people for the seizure of fuel ships amount to more than $150 million, an additional cost to the citizen, he said.