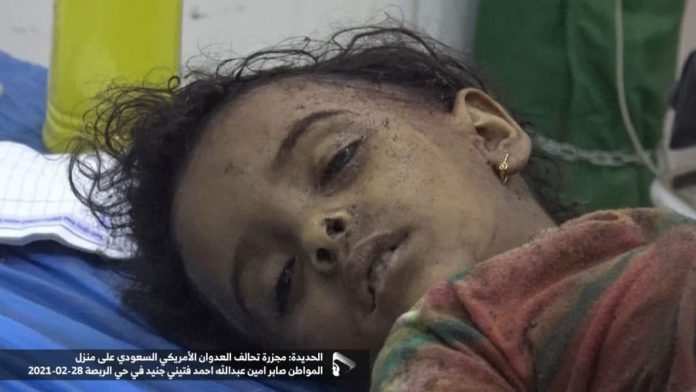 A child was killed and his father was injured by the Saudi aggression mercenaries artillery shelling against al-Dhale', while the aggression forces continued their violations in Hodeida, and the warplanes carried out 18 raids on Sa'ada and Marib in the past 24 hours.
A child was killed and his father was injured as a result of mercenaries' artillery shelling targeting their home in the Shakhb area of al-Husha district, said the official on Friday.
The official pointed out that the forces of aggression committed 172 violations on the fronts of Hodeida in the past 24 hours, including the creation of combat fortifications in al-Jabaliya, and Hays and the spy flights launched 2 raids on al-Faza, and the flight of 10 spy planes in the airspace of kilo16, al-Jah, al-Tuhaita, al-Faza, and Jabaliya.
The official pointd that among the violations of the aggression forces in Hodeida were 37 violations by rocket and artillery shelling of 297 missiles, a shell, 121 violations of various bullets, and the mercenaries also created combat fortifications west of Hays in Hodeida.
In Sa'ada province, the US-Saudi aggression warplanes launched an airstrike on the Maran area of Haidan district, while a Saudi missile strike targeted juma'a bin Fadhil area of Haidan district and various areas of Razeh border district.
In Marib province, the official pointed out that the warplane launched 2 raids on the district of Jabal Murad, while targeted 13 raids in the district of Serwah, and 2 raids on  Madghal.