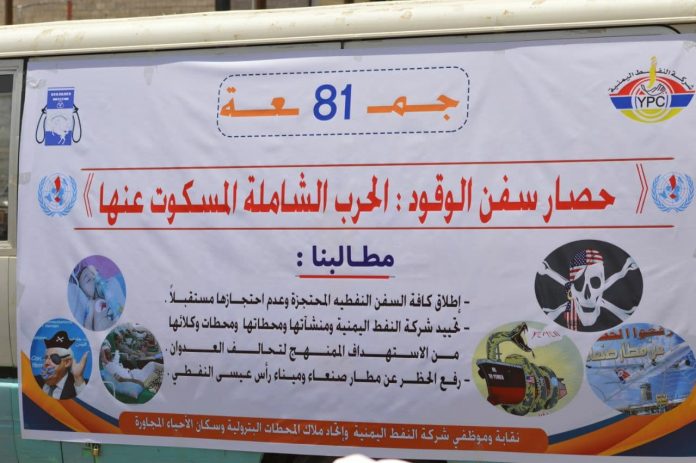 The Yemeni Petroleum Company (YPC)'s Executive Director, Ammar Al-Adhrai on Friday said that there is an international piracy on fuel vessels led by the United States and under United Nations cover.
The move came during a protest in front of the UN headquarters in the capital Sana'a, organized by the YPC titled " Fuel Ships Blockade: The Unspoken Total War".
He explained that the exporting companies pulled two oil ships last week because of the long waiting period.
He added: Over the past week, the coalition countries have held two more vessels after they were searched and obtained UN permits, noting that the number of ships detained by the coalition has reached 10 oil vessels.
Al-Adhrai pointed to fines for the detention of fuel vessels exceed 150 million dollars.
He noted that the countries of world had cooperated in the removal of the ship in the Suez Canal because they had been affected as well as their interests and they cannot bear the fines, while they closed the Hodeidah and the Yemeni people endured  all the consequences of the arbitrarily detention of ships that are being hacked under suspicious international silence.
He called on all free people of the world to stand with the Yemeni people to expose the acts of piracy, led by the United States and under the active cover of the United Nations.
Meanwhile, the statement issued by the YPC's trade union bodies , calling on the United Nations to fulfill its human rights mission and to carry out its tasks in Yemen, by putting more pressure on the Saudi-led coalition to release all detained oil vessels and to ensure that they are not detained in the future..
The statement reiterated the demand for lifting the embargo on Sanaa International Airport and Ras Issa facilities, and for protecting the Yemeni Petroleum company, its facilities, stations and its agents from targeting by the enemy.